Here in the Midwest, we looked for Wonder Bread at our major grocery stores. The stores were Walmart, Target, Kroger, and Meijer. The classic white bread brand was nowhere to be found. This inspired us to take a closer look at whether Wonder Bread is still being made. Here is what we found:
Did They Discontinue Wonder Bread?
Wonder Bread is still being made. The brand is owned by Flower Foods which owns several other notable bread brands including Nature's Own, Dave's Killer, Sunbeam, Bunny Bread, and others. Flowers acquired Wonder Bread and several other Hostess Bread brands after Hostess liquidated them in 2013 because of bankruptcy.
Where To Buy Wonder Bread?
Unfortunately, Wonder Bread is not available in all areas as you learned in the opening paragraph. To find out if the bread is sold near you, visit Wonder Bread's product locator page. Here you can type in your City/Zip Code to reveal stores near you that sell the bread.
For example, when we typed in the famous Beverly Hills, California Zip Code "90210", we found 10 locations near that Zip that carry Wonder Bread. The image below from wonderbread.com shows the example results.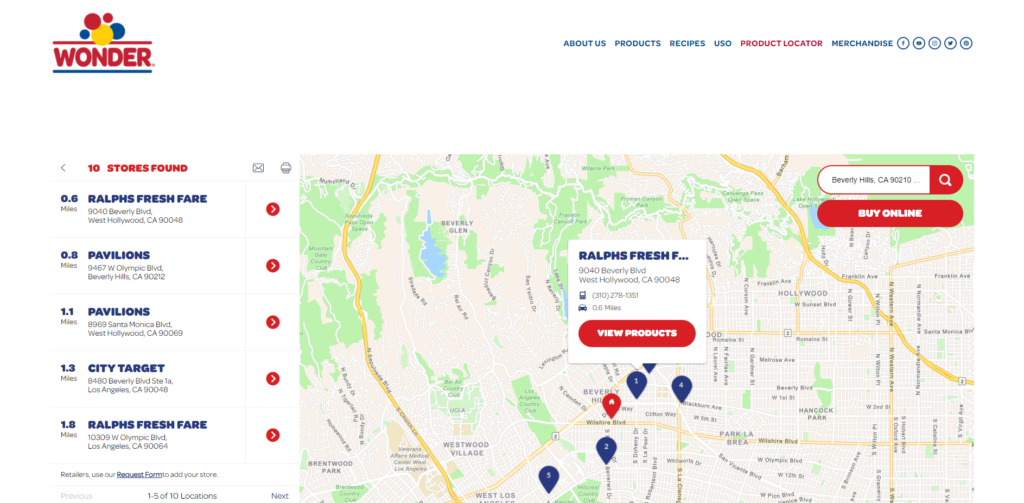 Wonder Bread Products
Wonder Bread makes an assortment of baked goods including bread, buns, rolls, and English muffins. Here are those products:
Bread
Classic White
Small Classic White
100% Whole Wheat
Buns & Rolls
Classic Hamburger Buns
Classic Hot Dog Buns
Honey Buns
White Sub Rolls
Nathan's Hot Dog Buns
Philly Steak Rolls
Sesame Twist Rolls
Dinner Rolls
English Muffins
---
Sources:
Photo by Hermes Rivera on Unsplash
wonderbread.com
flowersfoods.com