We grew up learning in school or playing games like Scrabble that not many words start with Z. Candy words are no exception!
Nonetheless, these are the candies that start with Z. First you'll just find a list them directly below. After the list is descriptions of each candy with photos for the readers that want a bit more details!
View our A to Z List of Candies if you're looking for candies that start with another letter! Let's get into the candies that begin with the letter Z!
List of Candies Starting With Z
Zagnut
Zebra Striped Gum (Fruit Stripe)
Zero
Zitner's
Zotz
Zours
Zweet
Zagnut
The Zagnut bar features crunchy peanut butter that is covered in toasted coconut. Now, the crunchy peanut butter isn't like you might find jarred in your pantry from the likes of Jif or Skippy. Rather, its more aligned with the interior of a Butterfinger bar, which also has peanut butter in its core. The food experts at Bon Appetit call it peanut brittle to better give you an idea of what it is.
Zagnut is currently a brand of The Hershey Company. It was first manufactured by the D.L. Clark Company who introduced it in 1930. D.L. Clark is famous for also producing the Clark bar, a candy bar made with a crispy peanut butter and spun taffy core that is covered in milk chocolate.
Zebra Striped Gum
Its technically called Fruit Stripe in reference to the gum brand introduced in the 1960s by Beech-Nut. Through the years people would refer to it as Zebra Striped Gum because of its colorful zebra striped pattern found on the gum sticks and its zebra mascot. The gum is known for its five flavors and temporary tattoos found on its wrappers. It is currently a brand of the Ferrara Candy Company.
Zero

Zero is a caramel, peanut, and almond nougat candy bar covered in white fudge. Its white fudge makes it unique compared to the typical brown chocolate color we are used to from brands like Snickers, Twix, and Milky Way.
Zero was introduced by Hollywood Brands in 1920 as the Double Zero bar and was shorten to Zero well over a decade later. Its name signifies a cold temperature which seemingly fits the snow-like appearance of the white fudge exterior.
Back in the day when keeping food items cool was a challenge due to lack of ample refrigeration and air conditioning, this white fudge would have been desirable because of its ability to not quickly melt.
Today, this candy bar brand is made by The Hershey Company. They began making the bar in 1996 after they entered a licensing agreement with the owner of Zero at the time, Leaf Inc.
While the Zero bar might seem obscure to some readers, we found it in stock at the Kroger and Walmart near us. Give this one a try if you can find it near you for a unique candy bar experience.
Zitner's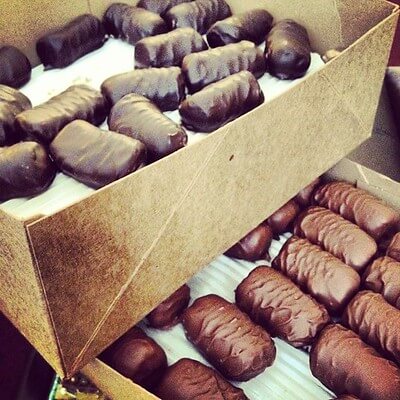 Image: Jessica Rossi/flickr
Zitner's is known for its candy Easter bunnies released each spring that are particular popular in the Northeast United States. The company began in 1922 by Sam and Annie Zitner in Philadelpheia where they sold candy eggs out of their garage.
Today, Zitner's makes a variety of seasonal chocolate including covered eggs filled with things like butter cream, coconut cream, raspberry cream, and peanut butter. The timeless Butter Krak flavor (coconut and buttercream center) has been cherished since Sam and Annie's era and continues to be a favorite among fans of this candy.
Zotz
Image: Willis Lam/flickr
Zotz is a fizzy candy developed by Frank Landrey in 1970. The idea for the candy came after he returned from Italy with fizzy candy that the kids around his neighborhood couldn't get enough of. The name was invented by Landrey as a term used for when someone was trying to trick him.
Today, the candy is made in a small candy factory in Northern Italy. The candy's fizz when put in the mouth comes from baking soda with what the manufacturer calls a "few super-secret tweaks". Flavors include cherry, apple. blue raspberry, watermelon, orange, grape, strawberry, and fiery cinnamon
Zours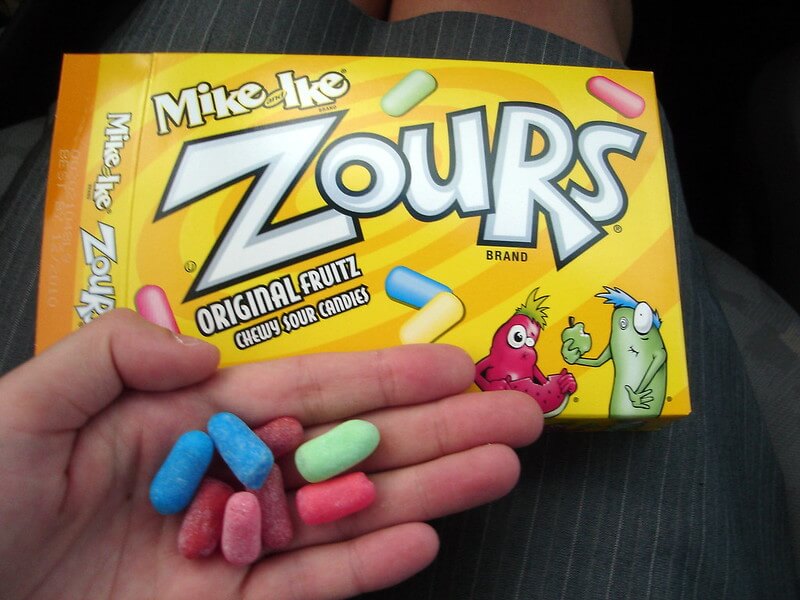 Image: Shoshanah/flickr
Zours is a word used by candy companies as a fun way to describe a candy that is sour. Mike and Ike is an example of a candy brand that makes sour candy called Zours. There are also Zour Bombs made by the General Candy Company in Thailand as another example.
Zweet
Zweet started in 2016 making sour belts that were actually sour with a pleasant texture unlike many existing sour belt products at the time. In 2018, the company added gummies to its line up that come in shapes like bears, worms, lips, and hearts. Then in 2018 they released Insanely Sour Belts, Cloudz (marshmallow treats), and Bunga Sourz (sour fruit chews).