This article provides a list of candies that start with 'N'. It also displays images and descriptions of each of these candies for the people that want more information on them.
View our A to Z List of Candies if you're looking for candies that start with another letter! Let's unwrap the details of these candies that begin with the letter N!
List Of Candy That Starts With N
Necco Wafers
Neapolitan Coconut Bar
Nerds
Nestle
Nik-L-Nip
Nips
Nougat
Now and Later
NutRageous
Nut Roll
Necco Wafers
My grandparents used to bring these as a treat when they visited me. I wasn't really fan of them but I didn't have the heart to tell them my dislike for them.
There is undoubtedly a love/hate relationship with this candy. This Reddit post is just one example where you'll find people giving their thoughts on this polarizing candy. "Chalky", "Dry", and "Poison Flavor" or just a few of the negative words used to describe Necco Wafers. However, there are certainly many people with a lot of positive things to say about them as well.
They are small, disk-shaped candies that come in an assortment of pastel colors with different flavors. The eight flavors include lemon, lime, orange, clove, cinnamon, wintergreen, licorice, and chocolate. Necco Wafers are known for their unique chalky and powdery texture.
The name "Necco" originally stood for the New England Confectionery Company after the company that produced the wafers. They were first created in 1847, making them one of the oldest candies still produced in the United States.
Necco Wafers were recently not made for two years. However, the Spangler Candy Company purchased the brand in 2018 and brought the candy back to the market in 2020.
Neapolitan Coconut Bar
Most readers are likely familiar with Neapolitan ice cream consisting of vanilla, strawberry, and chocolate flavors all in one carton. The candy is made with the same three invidual flavors but with a sweet and chewy coconut candy base instead of ice cream. Neapolitan Coconut Bar is a product of Dayton Nut Specialties sold under its Candy Farm brand name.
Nerds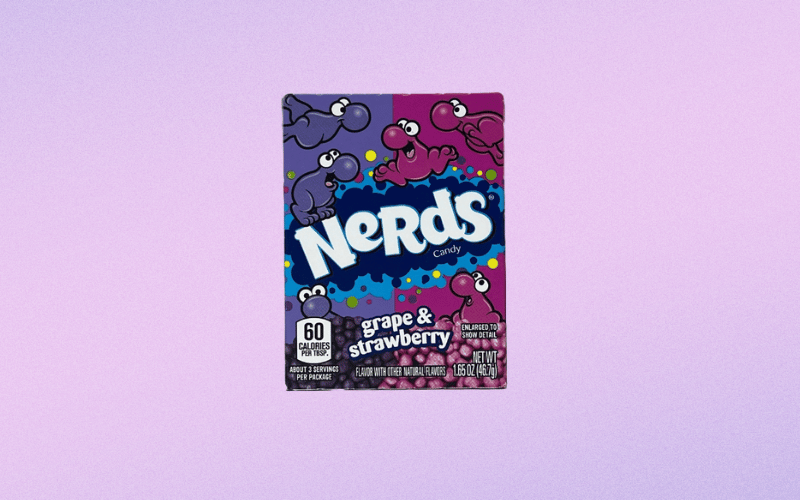 Nerds are small, irregularly shaped, colorful, and crunchy candies. They come in a variety of flavors and each flavor has a different color.
Nerds are often sold in boxes that contain two separate compartments to allows the flavors not to mix. The combination of different flavors and colors in a single box allows candy lovers to enjoy a variety of taste experiences in one package.
The candy was first introduced in 1983 by the Willy Wonka Candy Company, which later became a part of Nestlé. In 2018, the Ferrara Candy Company acquired the Nerds brand.
In addition to the classic Nerds pictured above, Ferrara also makes Nerds Ropes, Gummy Clusters, and Big Chewy Nerds.
Nestle
Nestlé's product portfolio includes many well-known brands such as Nescafé, Kit Kat, Nestea, Nestle Crunch, Maggi, Nesquik, and many more. The company operates in numerous countries, and its products are widely available around the world. Over the years, Nestlé has grown through acquisitions and diversification, becoming a major player in the global food and beverage industry.
Nik-L-Nip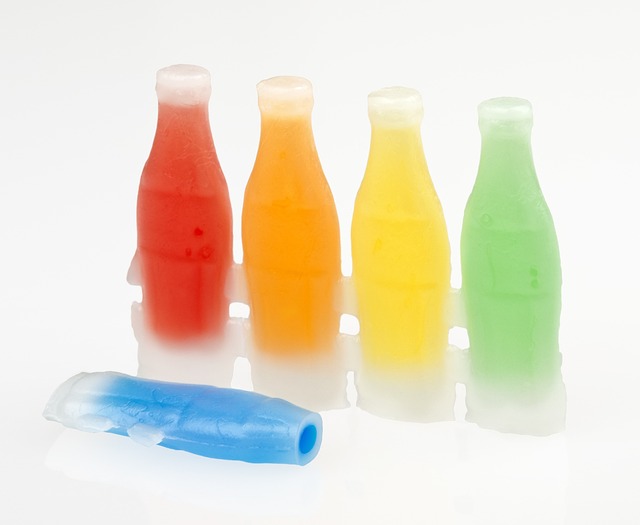 Nik-L-Nip is made by Tootsie Roll Inc. They are a sort of fruited-flavored, syrupy candy offered in a wax bottle. You simply nip off the top of the wax bottle to enjoy the liquid inside. Some people like to chew on the wax bottle like gum. The "Nik-L" portion of its name is for nickel (the original cost) and the "Nip" portion is for how you open the bottle.
Nips
Nips is a brand of candy known for its creamy and smooth texture. These candies are small, individually wrapped, and typically come in a variety of flavors such as chocolate parfait, coffee, and caramel. They are produced by the Ferrara Candy Company.
Nougat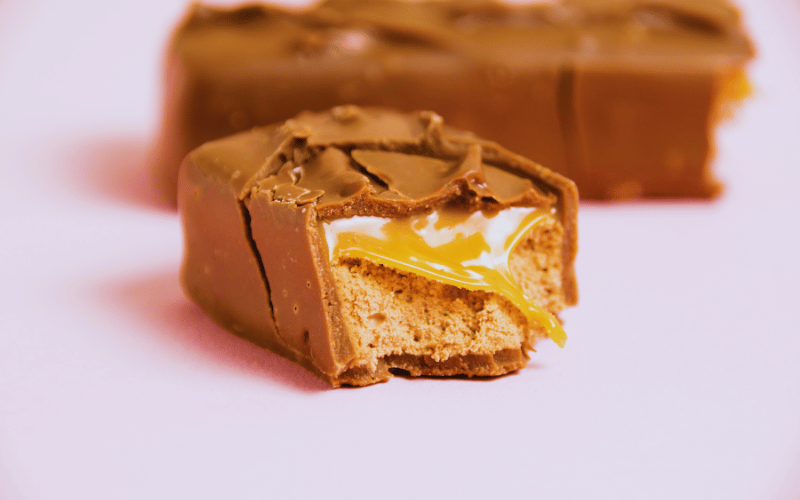 Nougat is a component of many candy bars and a type of candy on its own. We did a whole article on What Candy Bars Have Nougat if you're interested in finding treats with this ingredient.
Nougat is made with cooked sugar or honey. Egg whites are whipped into the sugar to create an aerated texture. Flavorings or nuts can be added to enhance its taste.
The majority of the inside of a Snickers contains nougat to give you an example of a popular candy bar with nougat.
Now and Later
The Phoenix Candy Company first brought us Now and Later candy in 1962. Its a taffy-like candy known for its square shape and somewhat chewy texture. Its fruity flavors include banana, watermelon, cherry, strawberry, apple, grape, and others.
The name "Now and Later" suggests that the candy is designed to be enjoyed both immediately (now) and later, as it has a long-lasting chewiness. The current products include Original, Chewy, and Morphs. Today, the candy is made by the Ferrara Candy Company.
NutRageous

NutRageous is made by Hershey's under its Reese's brand. Its core is loaded with peanut butter, which is surrounded by crunchy peanuts and caramel. Its exterior is made of a rich milk chocolate. The combination of these components provides a sweet, salty, and nutty flavor.
The bar was introduced in 1994 by Hershey's. The name "NutRageous" is a play on the words "nut" (referring to the peanuts) and "outrageous," suggesting possibly an outrageous amount of peanuts used to make the bar.
Nut Roll

The Minnesota based Pearson's has been making candy since 1909. They introduced the Salted Nut Roll in 1933 and they sold for a nickel.
Fluffy nougat at its center surrounded by caramel and then peanuts is what makes a Nut Roll made by Pearson's. They also recently introduced its Nut Roll with a peanut butter center instead of nougat. The peanut butter used to make the bars is Skippy.