Directly below is a list of popular candies that start with the letter A. However, if you want more details on each of these candies, look below the list for additional information.
View our A to Z List of Candies if you're looking for candies that start with another letter! Let's unwrap the details of these A candies!
List of Candy Starting With A
Abba-Zaba
Adams & Brooks
Aero
After Eight
Airheads
Allsorts
Almond Joy
Almond Rocha
Amazin' Fruit
American Licorice Company
Annabelle's
Applehead
Asher's
Astro Pop
Atomic Fireball
Abba-Zaba

Abba-Zaba is an American candy that is made with a white chewy taffy-like exterior with a peanut butter center. It is recognized for its unique but tasty combination of flavors and textures.
Abba-Zaba has been enjoyed since its introduction in the 1922 by a Los Angles candy company called Colby & McDermott. Today, this candy bar is made by the Annabelle Candy Co. who also makes other bars including Big Hunk, Rocky Road, U-No, and Look!.
Abba-Zaba is primarily sold in the Western United States. However, you can certainly purchase the bars online or find them at many shops dedicated to selling candy if you can't find it near you.
Adams & Brooks
Adams & Brooks has been making candies since 1932. They make P-Nuttles, Coffee Rio, Fairtime Taffy, lollipops, and other classic candies. The candy can be found around the world in countries such as England, France, Germany, Italy, Israel, Saudi Arabia, South Korea, Australia, and Singapore.
Aero

Aero is a type of chocolate candy bar that is known for its unique bubbly texture in its core. Aero is short for aerated, which is the process of injecting air into the chocolate during the manufacturing process to create tiny bubbles. This results in a light and melt-in-your-mouth experience when you bite into one of these bars.
It is currently produced by Nestlé but an English candy company called Rowntree's introduced it in 1935. Rowntree's is also famous for creating the iconic candies, Kit Kat and Rolo, among others.
Aero not only makes candy bars but also mousse, instant hot chocolate, melts (cookies), and related products. Aero bars come in different flavors beyond the standard milk chocolate. Flavors include peppermint, caramel, orange, and golden honeycomb.
After Eight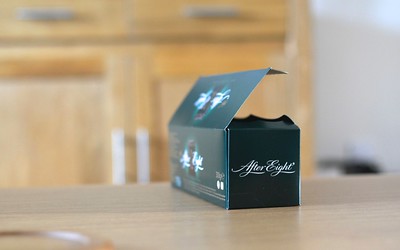 Image: rhodesj/flickr
After Eight is a well-known British mint brand, primarily recognized for its thin, rectangular, dark chocolate. These individually wrapped candies are traditionally enjoyed as an after-dinner treat, often accompanying coffee or tea.
Each piece features a layer of rich dark chocolate surrounding a mint-flavored fondant filling, providing a delicious blend of flavors. After Eight has been a classic choice for those seeking a palate-cleansing sweet since 1962. They were original produced by Rowntree but have been produced by Nestlé since the late 1980s.
Airheads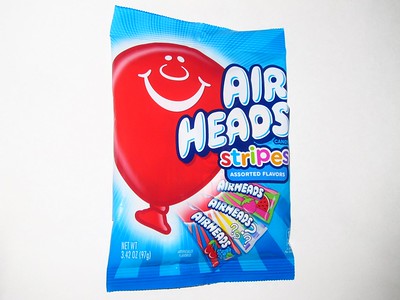 Image: Willis Lam/flickr
This is a taffy brand produced by Perfetti Van Melle that is made in Kentucky. These colorful and flavorful chewy candies are individually wrapped and come in a variety of fruit flavors such as cherry, watermelon, and blue raspberry.
Airheads are known for their stretchy and soft consistency, making them fun to pull, twist, and shape. They have been a favorite among both kids and adults for decades and are often associated with their vibrant colors and bold fruit flavors.
Allsorts
Allsorts is an assortment of English licorice pieces. Maynards Bassetts, Taveners, and Gustaf's are a few of the brands that produce it. Buttons, sandwiches, and straws are examples of the candy shapes you'll find in the mixes.
Almond Joy
Almond Joy (pictured left), Mounds (pictured right)
Almond Joy is a classic American candy bar produced by Hershey's and invented by Peter Paul in 1946. It consists of a sweet combination of milk chocolate, shredded coconut, and whole almonds. This candy bar with almonds features a rectangular shape with almonds being noticeably present on its surface under the chocolate.
In case you prefer dark chocolate and no almonds, Hershey makes Mounds, the sister product of Almond Joy. Learn more about Almond Joy versus Mounds in our article.
Almond Rocha
Harry Brown and J.C. Haley invented Almond Rocha in the 1920s. Its a log shaped toffee candy with an exterior layer of chocolate that is covered in almonds. The candy was named by a librarian in Tacoma, Washington where it originated. The company, Brown & Haley makes this candy today.
Amazin' Fruit
This candy brand produced real fruit juice gummies. It was owned by Hershey's and then purchased by Farley's & Sathers in 2002. By around 2008, the gummies were no longer being produced. Hey, there's always hope for a come back!
American Licorice Company
American Licorice is the company behind Red Vines and Sour Punch. They are one of the first licorice manufacturers in the American candy industry making their debut in 1914. With a heritage spanning over a century, the company has been at the forefront of creating iconic treats. Its Red Vines were originally going to be called Raspberry Vines for a fun fact.
Annabelle's
Annabelle's is a U.S. candy company started by Sam Altshuler in 1950. Its manufacturing facility is in Hayward, California where they produce the candy that begins with A that we covered above called Abba-Zaba. They also make the Big Hunk, Rocky Road, U-No, and Look! bars. The company remains family-owned by the Altshuler family.
Andes

Andes candies are small rectangular shaped candy mints. They include a creamy, green mint-flavored layer enclosed in a layer of smooth chocolate. They are typically wrapped in green foil and are often served as an after-dinner mint or enjoyed as a sweet treat.
Andes were first introduced in 1950 and have been made by Tootsie Roll Inc. since 2000. Tootsie states that it is the number one after-dinner mint. Spin-off flavors of the original known as Crème de Menthe are Cherry Jubilee, Toffee Crunch, Mint Parfait, Peppermint Crunch, and Mint Cookie Crunch. There are also discontinued and limited edition flavors.
Applehead
Image: mrkittums/flickr
Applehead is a candy brand made by the Ferrara Candy Company. It first appearance in 1908 when it was called Johnny Apple Treats. A company called the 1908 Candy Company recently attempted to bring back Johnny Apple Treats along with other classics like Alexander The Grape and Mr. Melon but it appears they have been discontinued.
Applehead is the parent of the head candies that include such names as Lemonheads, Cherryheads, and Orangeheads. The candy resembles a granny smith apple with a soft sour exterior and a signature hard interior that is relatively easy to bit through.
Asher's
.Asher's is a family-owned candy company that has been in business since 1892. The company offers a wide range of chocolate candies and confections, including chocolate-covered pretzels, peanut butter cups, chocolate bars, and more. Stores where you might find this candy that starts with A include Giant, Wegmans, Kroger, Weis, Mariano's, and others.
Astro Pop
Astro Pop is a nostalgic, cone-shaped lollipop candy with a unique and instantly recognizable appearance. If you want to eat a candy that will be noticed as you eat it, this is the one for you.
These tri-colored candies typically consist of layers of different fruit flavors. The Original produced by Leaf currently is being made with the flavors of cherry, passionfruit, and pineapple.
They are known for their conical shape with a pointed top like a rocket. Astro Pops were first introduced in 1963 and were invented by rocket scientists. The candy become extremely popular during the 1960s as the Space Race was ramped up and the dreams of landing on the moon were starting to become a possibility.
Atomic Fireball
Image: P00018/flickr
Atomic Fireball candy is a well-known spicy and cinnamon-flavored candy that's famous for its intense heat and red-hot taste. According to the manufacturer's website, they produce 3500 Scoville Heat Units. These small, round, and jawbreaker-like candies are made of layers of sugar and a concentrated cinnamon flavor, which creates a fiery sensation when you suck or bite into them.
Atomic Fireballs are renowned for their extreme spiciness and have been a favorite among people who enjoy a bold and fiery candy experience since their introduction in 1954. Sal Ferrara of the Ferrara Candy Company family invented the candy using the hot panned candy method which builds up the candy structure in a pan starting from a single grain of sugar.