Here, we take you on a journey into the popular candies that start with the letter "L". Directly below is a list of the letter L candies. Under that list is where you will find descriptions and images of these candies.
View our A to Z List of Candies if you're looking for candies that start with another letter! Without further delay, lets get into the details of these "L" candies!
List Of Candy That Starts With L
Laffy Taffy
Lemon Drops
Lemonhead
Licorice
Life Savers
Lindor
Lindt
Lion Bar
Lips
Lollipops
Long Boys
Look!
Love Hearts
Laffy Taffy
Laffy Taffy is a popular brand of chewy, fruit-flavored taffy candy. It is known for its bright and colorful packaging, as well as the jokes printed on the inside of the wrapper, which are often referred to as "Laffy Taffy jokes." These jokes add an element of humor to the candy-eating experience, which many people enjoy.
Laffy Taffy comes in a variety of fruit flavors. The primary flavors include banana, strawberry, cherry, grape, sour apple, and blue raspberry.
Lemon Drops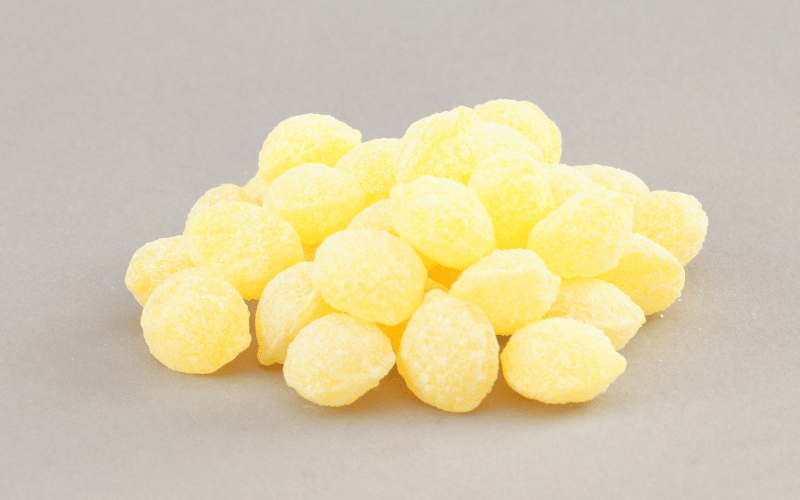 Lemon Drops are a type of hard candy that is known for its sugary, sour lemon flavor. Lemon drops are often shaped into small, round, or oval candies and are usually yellow to match the appearance of real lemons.
This type of candy is made by multiple manufacturers. Brach's, Taveners, Claey's, and Gilliam are a few examples of lemon drops brands.
Lemonhead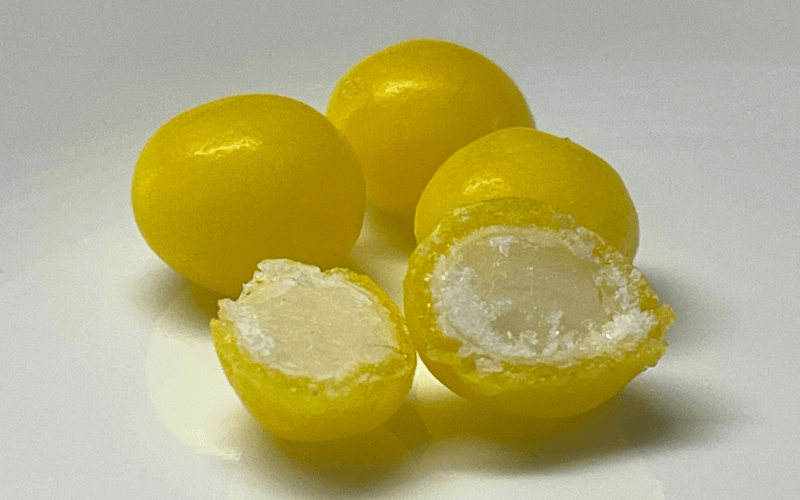 Lemonhead candies are small, round, and hard candies that have a sweet and tangy lemon flavor. They are known for their bright yellow color and slightly sour shell that gives them their signature taste. They are unique in that their core is a hard candy and their shell is soft.
Lemonheads were first introduced in 1962 by the Ferrara Candy Company. In addition to the Original Lemonheads, the brand has expanded its product line to include various other flavors, such as Cherryheads, and Appleheads with each featuring the same soft candy shell with hard candy interiors.
Licorice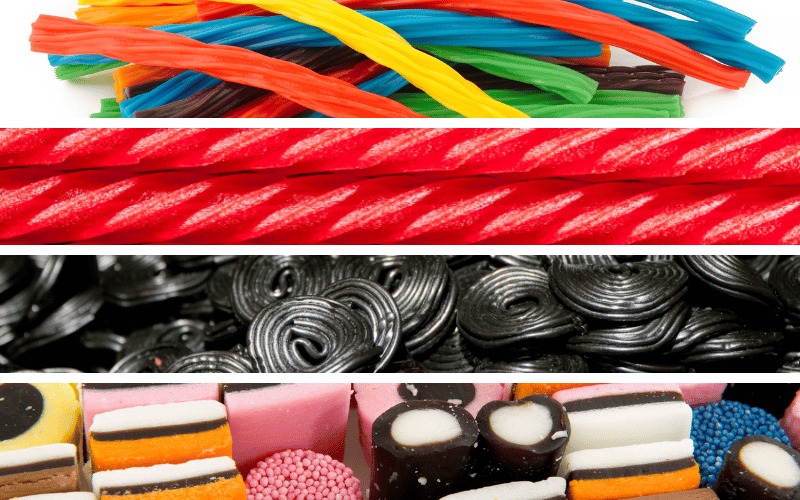 We cannot have a list of candy that begins with L without including licorice. It is an extremely old candy dating to the 13th century. It is traditionally derived from the root of the licorice plant (Glycyrrhiza glabra).
The flavor is characterized by its sweet and slightly anise taste which can be both mild and pronounced, depending on the specific type of licorice product.
Popular brands of licorice include Twizzlers, Red Vines, Wiley Wallaby, and Good & Plenty.
Life Savers
Life Savers candies were first introduced in 1912 by the American candy manufacturer, Clarence Crane. They were initially created as a candy that was able to stand up to the summer heat unlike the chocolate products that the company was making. The first flavor of Life Savers was Pep-O-Mint.
In 1921, the Life Savers we know today in fruit flavors were introduced. The initial three flavors were lemon, lime, and orange. Cherry and pineapple were introduced some 14 years later. Today, the standard five flavors are cherry, raspberry, watermelon, orange, and pineapple.
These candies have a distinctive design with a hole in the center, which resembles a miniature life preserver or "life saver," which is how they got their name. Hard candies, mints, and gummies (pictured above) are made by Life Savers.
Lindt (Lindor)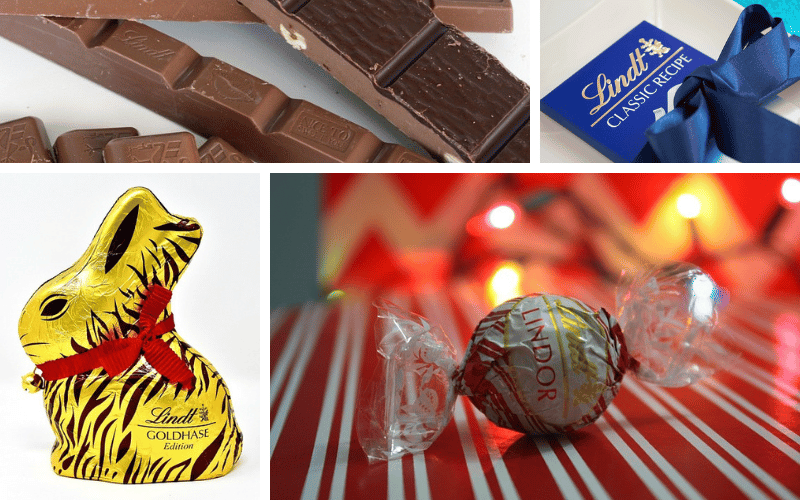 Lindt is a high-quality and well-known brand of chocolate produced by the Swiss chocolatier Lindt & Sprüngli. Lindt was founded in 1845 and is one of the world's leading premium chocolate manufacturers.
The company's chocolates are known for their smooth texture, rich flavor, and exquisite taste, making them a popular choice among chocolate lovers worldwide.
One of its most popular brands is Lindor, another candy starting with "L". Lindor candies are chocolate truffles. In simple words, they are hollow chocolate balls with a type of ganache inside. They come individually wrapped to maintain freshness.
Lindt also makes premium chocolate bars under its Excellence line, a Pralines Collections, Creations (dessert boxes & creations), and a Hello line (a modern style of chocolate).
Lion

Nestlé currently makes the Lion chocolate bar but it was invented by Rowntree's, a Bristish confectionery, in 1976.
The Lion bar is known for its combination of ingredients. Its interior is made of delicious caramel, wafer, and crunchy cereal. These components are covered in a layer of milk chocolate.
Lips
Simple put, it's candy shaped like lips. The shape of the candy adds a whimsical and entertaining element to the eating experience, espcially for children.
Lips candy is commonly found in candy stores, and it can be a popular choice for parties, celebrations, or simply as a sweet treat. We don't have the data but it appears the most common type of lips candy is the gummy variety. However, you can certainly find it in chocolate (see the image above) and other forms of candy.
Lollipops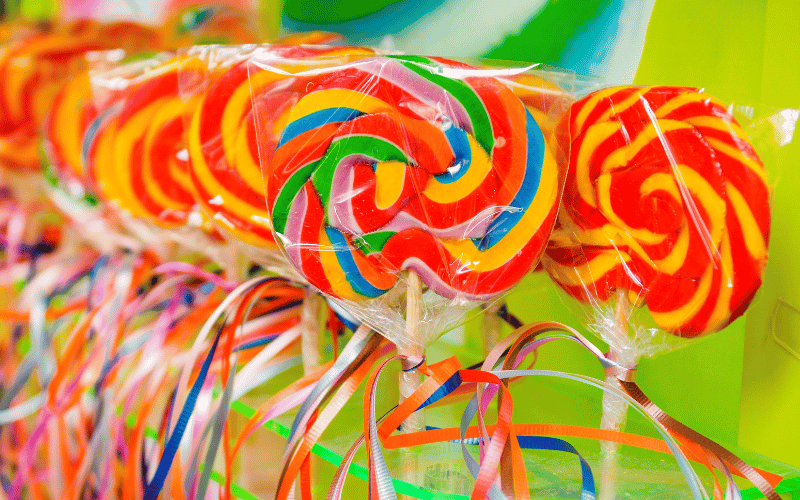 They consist of a hard, flavored candy that is typically spherical or disc-shaped and attached to a stick. Lollipops come in a wide variety of flavors, colors, and sizes.
They are a popular choice for children and can be found at candy stores, supermarkets, and in various forms, including traditional spherical lollipops, heart-shaped lollipops, and novelty or themed lollipops for special occasions and holidays.
Long Boys
Long Boys are a candy made by Atkinson's. They are caramel with coconut flakes within the caramel. They are individually wrapped in classic yellow and red packaging and come in various sizes including bars and rolls.
Look!
Annabelle's Candy Co. makes the Look! candy bar. It features a soft nougat and roasted peanuts center that is covered in dark chocolate. These bars a thin and super chewy for a unique candy bar experience. Many people like to freeze them for a more brittle texture.
Love Hearts
This is a brand of heart shaped candy made by Swizzels Matlow, a British confectionery company. They were introduced in 1954 and are known for their messages of love printed on their surface in edible ink. The candies now even feature emojis printed on them as well.
They are often packaged in rolls or small packets, making them easy to share and give as gifts. The nostalgic and sentimental aspect of Love Hearts candy has contributed to their lasting popularity.