As you may have guessed, there aren't many candies that start with 'O'. However, we included the relevant ones below. We hope this list helps you find the 'O' candy you were looking for!
View our A to Z List of Candies if you're looking for candies that start with another letter!
List Of Candy That Starts With O
Oh! Henry
Old Faithful
Old Gold
Orange Peel Candy
Orange Slices
Orbit
Oreo
Oh! Henry
Image: Mike Mozart/flickr
The details are unclear on how the Oh! Henry bar got its start. The most common belief is that Greg Williamson introduced the candy in 1920 at the Williamson Candy Company in Chicago. According to the Rogers Park/West Ridge Historical Society, the candy bar was reportedly named after a flirty electrician who visited the company where the ladies would say "Oh! Henry" in response to his behavior.
There is also a theory that Tom Henry of the Peerless Candy Factory invented Oh! Henry and sold it to the Williamson Candy Company.
The bar is made with peanuts, chewy fudge, creamy caramel, and a chocolate coating.
Oh! Henry also makes a peanut butter version of its bar where Reese's peanut butter is used instead of fudge.
There is also the Oh! Henry Level Up bar that is made with pretzels, caramel, peanut butter, peanuts, and an exterior chocolate coating.
Old Faithful
Old Faithful is a a geyser at the world famous Yellowstone National Park in Wyoming. Its also a marshmallow candy bar made by the Idaho Candy Company.
Its center is made of a soft vanilla marshmallow filling. The filling is covered with milk chocolate that has whole peanuts embedded into it. The marshmallow seemingly represents the water that spews out of Old Faithful while the chocolate and peanuts likely symbolize the earth where the water is stored.
Old Gold
Old Gold is a dark chocolate candy brand of Cadbury that is sold in Australia. They are typically offered in bar form. Each bar is made with small square sections that can be broken off and enjoyed.
The candy is know for being filled ingredients like almonds, peppermint, orange filling, and rum & raisin.
Orange Peel Candy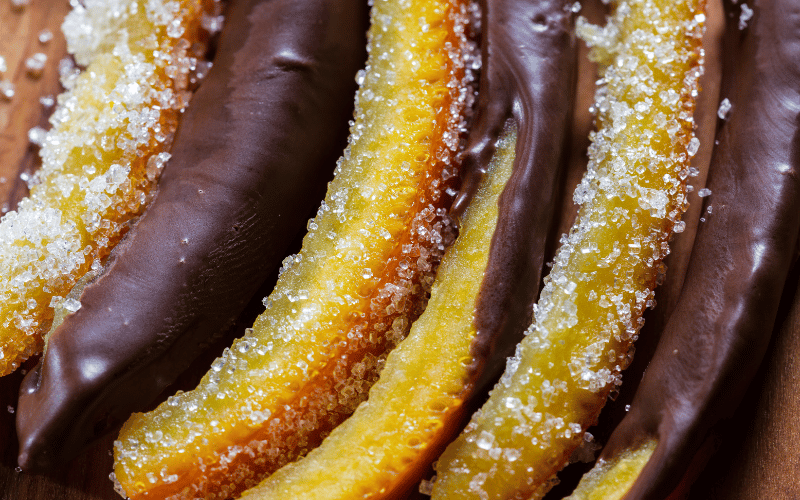 Orange peel candy is a sweet treat that is made from the peel of oranges. The process involves boiling orange peel strips in a sugar syrup until they become tender and then coating them in sugar and potentially chocolate. This candying process preserves the peel, gives it a chewy texture, and makes for a delicious snack.
Orange Slices
This type of candy is shaped to look like orange slices. The slices are colored orange to mimic the color of real oranges. These candies are usually made with a chewy, gummy-like texture and are flavored to resemble the taste of oranges. The candy may also be coated in sugar or sour powder to enhance the flavor and provide a sweet or tangy taste.
Orbit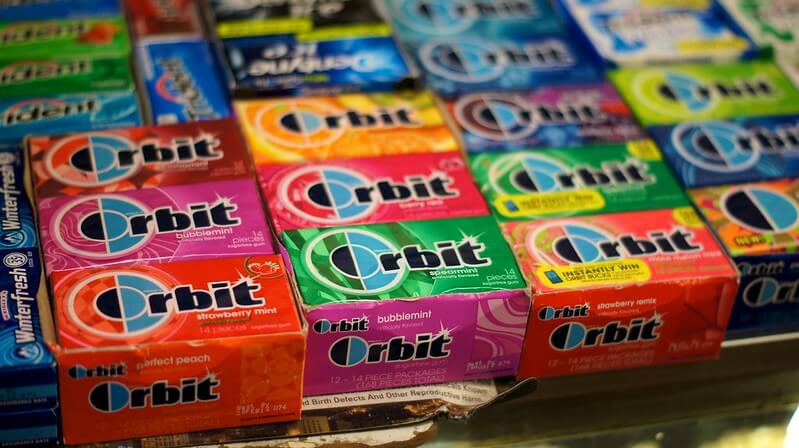 Image: Ted Eytan/flickr
Orbit is marketed by Wrigley as a sugar-free gum that helps prevent cavities if chewed for 20 minutes or more after eating. Hey, what a bonus for a great tasting gum!
The brand name was first used during World War II but faded away after the war as normal production of Wrigley's core gum products continued.
It was reintroduced in German, The Netherlands, and Switzerland in 1976. It didn't remerge as a gum brand in the United States until 2001. Its current U.S. flavors include spearmint, sweet mint, peppermint, bubblemint, citrus, freeze mint, strawberry, and wintermint.
Oreo Candy
Oreo is the most popular cookie brand in the United States. In fact, its popularity has sparked numerous knock offs of Oreos. Well, technically Oreos are an imitation of Hydrox cookies, the original chocolate sandwich cookies, but that's another topic.
Anyway, we are talking candy here and not cookies! When it comes to Oreo candies, there a various candies that uses Oreos as a component. For example, there are Oreo Eggs which are chocolate eggs filled with creme and Oreo cookie pieces. Another example is Milka's Oreo Original Chocolate Bar.