Jif and Skippy are the most popular peanut butter brands in America. It is hard to think about peanut butter and not think about these two classic brands.
Below, we highlight the primary similarities and differences between Jif and Skippy. This information should help you decide which peanut butter is best for you or at least give you a bit of information about these brands. If you have a favorite between Jif vs Skippy, please vote for it in the poll at the end of this article.
Jif vs Skippy
Blind Taste Test
The winner of our blind taste test was Skippy. All three taste testers stated that the Skippy tasted more natural compared to the "artificial tasting" Jif. Two of the taste testers commented that the Jif had an unpleasant oily flavor to it. One person indicated that the Jif tasted like peanut butter inside a cheap candy bar.
The testers liked the thicker texture of the Jif with one person saying that it seemed like the Skippy was put through a sieve a thousand times.
Overall, everyone agreed that Skippy was preferable because it tasted more like real peanut butter. However, all testers stated that they would have no problem eating Jif on occasion.
Keep in mind that the peanut butter was served on Ritz Crackers for the taste test. The testers also sampled the peanut butter by itself. These products tasted much more similar on the Ritz compared to eating them on their own.
Ownership
Jif – Jif is owned by The J.M. Smucker Company (Smucker's). Smucker's purchased Jif from Procter & Gamble in 2001. Proctor and Gamble acquired Jif (then called Big Top) in 1955. Big Top was rebranded to Jif and would soon take on the existing peanut butter heavyweights Skippy and Peter Pan. Today, Jif is the most popular peanut butter in the United States. Approximately 117 million people in the U.S. consumed Jif in 2020, based on data from Statista.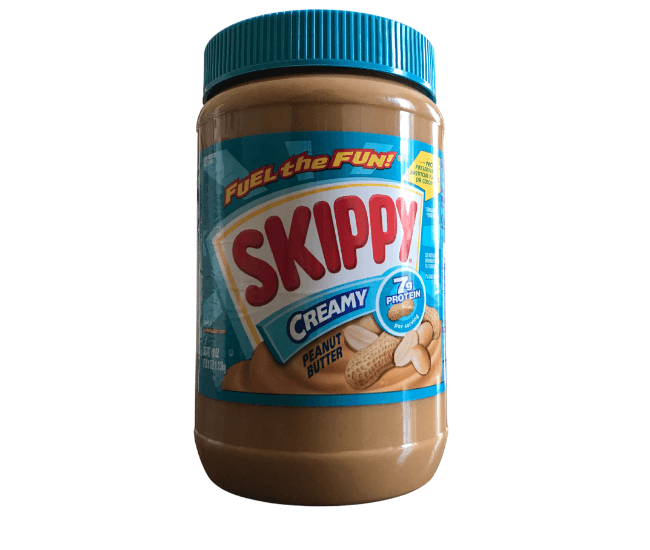 Skippy – Hormel Foods currently owns Skippy. The company acquired this peanut butter brand from Unilever in 2013. Skippy has been sold in stores since 1932. Over many years, there has been a trademark war involving the name "Skippy" between Skippy the comic vs Skippy the peanut butter. Check out the Trademark & Copyright Law website for the full details. Long story short, Skippy (the peanut butter) appears to have won the war after years of battling. Based on Statista data, Skippy is the second most popular peanut butter brand in American. Approximately 85.98 million people consumed it in 2020.
Nutrition Facts
There are no major differences in nutrition between Jif vs Skippy. Skippy does have 2 grams fewer carbs than Jif. Additionally, Jif has more calcium and potassium. We suspect that most people do not opt for one peanut butter over the other simply because of their nutrition.
| | | |
| --- | --- | --- |
| | Jif Creamy | Skippy Creamy |
| Serving Size | 2 Tbsp (33g) | 2 Tbsp (32g) |
| Calories | 190 | 190 |
| Total Fat | 16g | 16g |
| Saturated Fat | 3.5g | 3g |
| Trans Fat | 0g | 0g |
| Cholesterol | 0mg | 0mg |
| Sodium | 140mg | 150mg |
| Total Carbohydrate | 8g | 6g |
| Dietary Fiber | 2g | 2g |
| Total Sugars | 3g | 3g |
| Includes Added Sugars (2g Jif, 3g Skippy) | | |
| Protein | 7g | 7g |
| Vitamin D | 0mcg | 0mcg |
| Calcium | 17mg | 0mg |
| Iron | 1mg | 0.4mg |
| Potassium | 185mg | 94mg |
| Vitamin E | 2mg | 1.5mg |
| Niacin | 5mg | 3.2mg |
Ingredients
The notable differences in ingredients are the molasses and mono & diglycerides in Jif, which are not in the Skippy. Molasses is a thick syrup that is used as a sweetener. It is a byproduct that is produced while making sugar. Mono and diglycerides are emulsifiers that help prevent oil from separating. They also extend product shelf life.
Jif – Roasted peanuts and sugar, contains 2% or less of: molasses, fully hydrogenated vegetable oils (rapeseed and soybean), mono and diglycerides, salt.
Skippy – Roasted peanuts, sugar, hydrogenated vegetable oil (cottonseed, soybean and rapeseed oil) to prevent separation, salt.
Price
On average, you will pay a bit less for Skippy compared to Jif based on the stores below. Of course, where you buy your peanut butter matters. If you find these peanut butters near or below the lowest prices shown below, it may be worth stocking up on your favorite brand.
| Store | Jif Creamy 16 oz | Skippy Creamy 16.3 oz |
| --- | --- | --- |
| Kroger | $2.49 | $2.79 |
| Target | $2.39 | $2.79 |
| Walmart | $2.44 | $2.34 |
| HEB | $2.35 | not available |
| Albertsons | $3.29 | $2.00 |
| Vons | $3.59 | $2.99 |
| Safeway | $3.99 | $2.99 |
| Meijer | $2.29 | $2.79 |
| Average Price | $2.85 | $2.67 |
Poll: Jif vs Skippy
Do you have a favorite peanut butter between Jif and Skippy. Vote for it in the poll below.