Original Lemonheads are sugary, sour, and lemon flavored candies that have been around for over 60 years. Most readers are likely aware of this classic candy brand but are here to learn a bit more about them.
In this article, we explore the backstory of Lemonheads by taking a look at the different types made, peek into what goes into them nutrition-wise, and cover all those common questions you might have about them. Let's get into to the sweet details of Lemonhead candies!
History
Lemonhead candies were launched in 1962 by the Ferrara Candy Company. The candy was invented by Nello Ferrara who also invented Atomic FireBalls after serving in Japan during World War II.
The way Lemonhead got its name is certainly interesting. Nello said his son, Salvatore, was born sideways and emerged from his mother with a lemon shaped head.
Salvatore Ferrara told The New York Times the following about the candy naming, "He always claimed that when I was born, that I came out of my mother sideways," the younger Mr. Ferrara said, "and my head was shaped like a lemon."
Appearance
The Lemonheads you see below are the smaller pea size candies that we zoomed in on. They are also made in a larger size similar to a standard jawbreaker.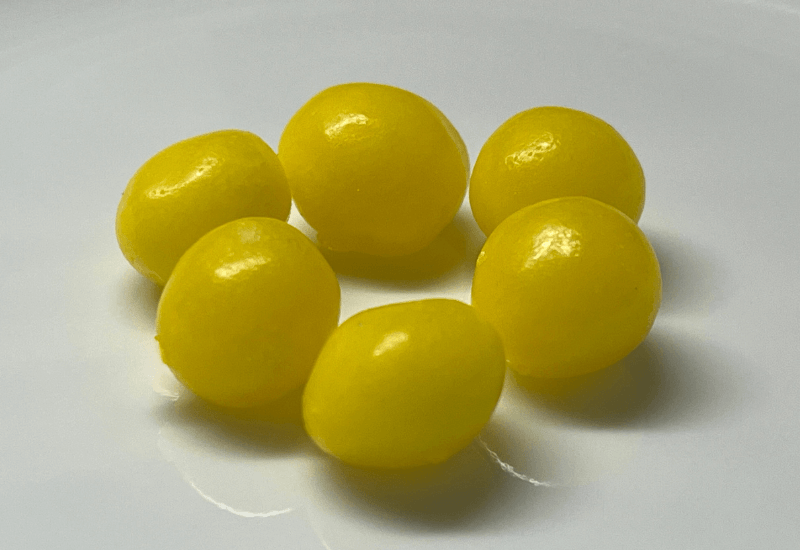 The interior of Lemonheads feature a hard candy center. You can see the sugary inside of a Lemonhead in the zoomed in image below.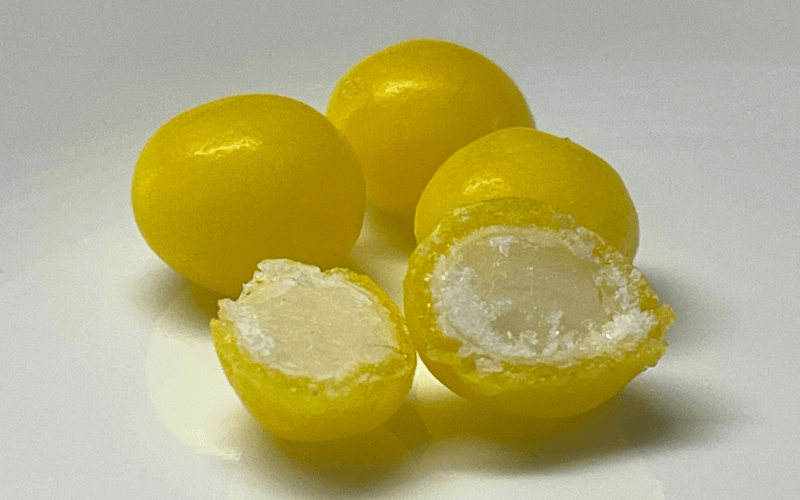 Lemonhead Products
These are the Lemonhead products and products similar to Lemonheads:
Original Lemonhead – the classic lemon flavored sour candy
Lemonhead Twists – tart, soft and sweet candies with duo flavors. Flavors include lemon/cherry, lemon/watermelon, and lemon/lime
Lemonhead Gummies
Chewy Lemonhead – Flavors include Tropical, Fruit Mix, Redrific, Berry Awesome, Pink Lemonade, Fiercely Citrus
Applehead – similar to Lemonhead but apple flavor
Cherryhead – the cherry-style of Lemonheads
Grapehead (Formerly Alexander the Grape) – a classic grape flavored candy that first appeared in the 1970s
Original Lemonhead Ingredients
These are the ingredients of Original Lemonhead candies with a short explanation of each ingredient:
Sugar:

Commonly used as a sweetener in food products that needs no explanation.

Corn Syrup:

A sweet syrup made from corn starch that is often used to sweeten and add moisture to foods.

Citric Acid:

A natural acid found in citrus fruits, used in food and beverages. It is what helps give Lemonheads a sour flavor. Citric acid also acts as a preservative.

Lemon Juice from Concentrate:

It contributes to the citrusy flavor of the candy. It is lemon juice with much of its water content removed.

Confectioner's Glaze (Shellac):

A glossy coating used to give Lemonheads and other candies a desirable shine.

Natural and Artificial Flavor:

A blend of natural and synthetic flavor compounds to enhance the taste of the product.

Acacia (Gum Arabic):

Acacia gum is made form trees such as Acacia senegal. It is often used as a thickening or stabilizing agent in food products.

Modified Food Starch (Corn):

Starch that has been chemically or physically altered to improve its performance in certain applications, often used as a thickening agent.

Carnauba Wax:

A natural wax derived from the carnauba palm. It is used as a hardening and glazing agent in foods.

Yellow 5:

The color of Lemonheads is not natural. They are colored with this synthetic yellow food dye that is also known as Tartrazine.

White Mineral Oil:

A colorless and odorless oil often used in food processing to prevent the pieces of candy from sticking together.
Are Lemonheads vegan? – No, they are made with confectioner's glaze (shellac). ABC News calls shellac used in candies, "beetlejuice" because it is made from a resin produced by lac bugs. Bugs are not a suitable item to consume if practicing veganism.
Additionally, the sugar could be an issue for vegans if it is produced using bone char. Lastly, the artificial dyes may also raise concerns for vegans because of potential testing on animals and its cruelty to animals.
Original Lemonhead Candies Nutrition Facts
The two common sizes of Original Lemonheads are the smaller pea size candies and the larger jawbreaker-like size that are individually wrapped. Here are the nutrition facts for each size:
| | Original Lemonhead (Pea Size Pieces) | Original Lemonhead (Jawbreaker Size Pieces) |
| --- | --- | --- |
| Serving Size | 10 pieces (14g) | 2 pieces (15g) |
| Calories | 50 | 60 |
| Total Fat | 0g | 0g |
| Sodium | 0mg | 0mg |
| Total Carbohydrate | 14g | 15g |
| Total Sugars | 11g | 11g |
| Includes Added Sugars | 11g | 11g |
| Protein | 0g | 0g |
A person consuming a typical 2,000 calorie per day diet will consume about 22% of the recommended daily added sugar per serving of Lemonhead candies. Based on this information, you may wish to eat these candies in moderation.
How Lemonhead Candies Are Made
See how the hard center and chewy exterior of Lemonheads are made in the factor and combined to make the final product. The process is more hands on than you might think and is made similar to other candies like Mike and Ikes in some ways. Interestingly, the strong lemon concentrate that can make workers tear up is added as one of the last steps.
Where To Buy?
Leamonhead candies aren't as widely available as say something like Milky Way or Snickers. However, if you look for them, you'll find them in the U.S. We saw this candy at Walmart, Walgreens, Dollar Tree, Family Dollar Party City, and others.
Lemonhead Commercials
1988 Basketball Lemonhead
Head back to 1988 where a kid makes a bonehead play on the court and gets labeled a lemonade. A look at the classic box might bring back some memories for some readers.
Lemonhead Hockey Patrick Kane & Jonathan Toews
Lemonhead shows up Patrick Kane & Jonathan Toews on the ice after they miss crossbar shots.
Lemonhead FAQ
Yes, Lemonhead candies are sweet, lemony, and pleasantly sour.
The Original candies are somewhat hard but can be bitten into and chewed with relative easy. The outside layer is actually chewy with a harder candy interior. The manufacturer now makes Chewy Lemonheads if the Original is too hard for you.
No, Lemonheads are a hard candy on their inside with some chew. They do not provide a long lasting chew like gum. You are okay to swallow the candy after you chew it. After some 35 years of eating this candy, I have never been able to blow a bubble with it.
Do lemonheads have peanuts?
The candy is made in a facility where milk, eggs, almonds, coconut, peanuts and soy are used to make products. While there are no apparent peanut ingredients in Lemonheads, there is no guarantee the product is 100% peanut free. If you have a peanut allergy, reference the actual packaging for allergen details and read the ingredients before you eat the candy.
Are Lemonheads discontinued?
No, Lemonheads are still being made. Reference the "Where To Buy" section above.
Is Lemonhead candy good for you?
No, its primary ingredients are sugar and corn syrup. These ingredients are unhealthy, especially when consumed in excess. You should consider consuming this candy in moderation.
No, they contain an ingredient called Confectioner's Glaze (Shellac) which is made from lac insects.
Can you swallow Lemonheads?
Lemonheads are designed to be chewed and swallowed like you would Skittles or M&Ms, as examples. The candy is not gum where you would spit it out as you chew it and it loses flavor. The whole point of Lemonheads is to enjoy their flavor as you chew and the sugary sour lemon flavor lingers in the mouth.