Crunch 'n Munch and Cracker Jack are two budget-friendly and iconic caramel popcorn brands in America. It's tough to think about caramel popcorn and not think about at least one of these products.
This article will dive into the similarities and differences between Crunch 'n Munch vs Cracker Jack. At the end of this article, be sure to vote for your favorite (if you have one) in our poll. We would love to learn what our readers think is the better popcorn.
Crunch 'n Munch vs Cracker Jack
Taste Test
We had two adults and a nine-year-old taste test these two caramel popcorn brands. Here is what they thought:
Crunch 'n Munch – One of the adults described Crunch 'n Munch as having a taste similar to the cereal Honey Smacks. It was said to be sugary without a noticeable caramel taste. It was believed to have a buttery and nuttier taste compared to Cracker Jack.
Cracker Jack – The testers liked the fluffier and easier to bite into the texture of Cracker Jack. While it had less caramel coating than Crunch 'n Munch, the group agreed that it had a more authentic caramel taste than the Crunch 'n Munch. One of the adults loved the subtle flavor of the molasses, which is a signature ingredient of this popcorn.
Overall, one adult and the child picked Cracker Jack over Crunch 'n Munch as their favorite. The other adult picked Crunch 'n Munch as the best. Vote for your favorite at the end of this article!
Appearance
Crunch 'n Munch (pictured left) is much lighter in color compared to the darker brown Cracker Jack (pictured right). See the ingredients section below which will explain why they have different colors. Additionally, Crack Jack has loose peanuts whereas the Crunch 'n Munch peanuts tend to stick to the popcorn. This is likely due to the heavier caramel coating on Crunch 'n Munch compared to Cracker Jack.
Prize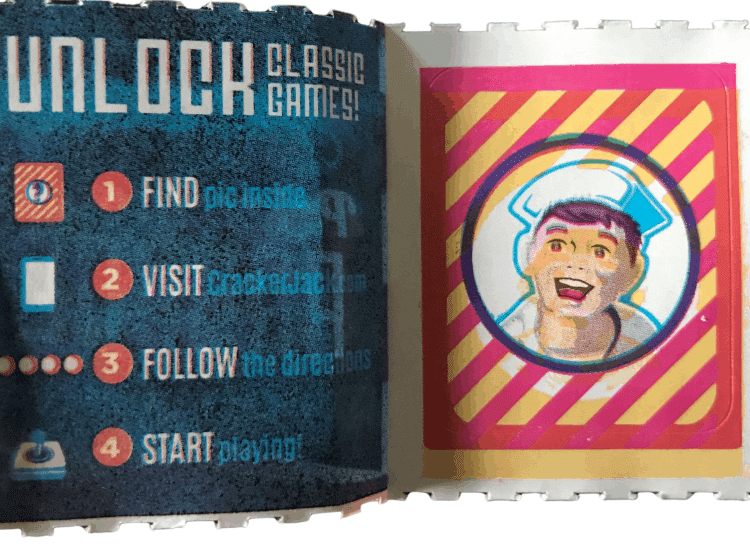 Cracker Jack comes with a surprise inside the package. However, it's nothing to get excited about. We got a sticker of the Cracker Jack sailor looking a bit creepy (see above) along with instructions on how to unlock games on the Cracker Jack website. While Crunch 'n Munch lacks a prize inside its packaging, you aren't getting anything special as a surprise in Cracker Jack.
Ownership & History
Crunch 'n Munch is owned by ConAgra Foods who acquired the brand from International Home Foods in 2000. Crunch 'n Munch first hit store shelves in 1966 as glazed peanuts. Popcorn wasn't added until 1972. The New York Yankees switched out Cracker Jack for Crunch 'n Munch in 2004 because they believed Munch tasted better. The tough Yankee fans weren't having any of that and demanded Cracker Jack be brought back to concessions. Yankee operations management listened and Cracker Jack was quickly brought back to Yankee Stadium that year.
Cracker Jack is one of the many snack food brands of Frito-Lay. The parent company of Frito-Lay is PepsiCo who has owned Cracker Jack since 1997. This iconic popcorn was first introduced under the Cracker Jack name in 1896. However, it appeared at the first Chicago World's Fair three years earlier. Sailor Jack and Bingo the dog (pictured on the package in the picture below the title) made their debut on product boxes in 1916. Cracker Jack would forever be tied to baseball when "Take Me Out to the Ball Game" was penned in 1908, which mentions Cracker Jack in its lyrics.
Nutrition
| | | |
| --- | --- | --- |
| | Crunch 'n Munch | Cracker Jack |
| Serving Size | 2/3 cup (31g) | 1/2 cup (28g) |
| Calories | 160 | 120 |
| Total Fat | 7g | 2g |
| Saturated Fat | 0.5g | 0g |
| Trans Fat | 0g | 0g |
| Cholesterol | 0mg | 0mg |
| Sodium | 100mg | 70mg |
| Total Carbohydrate | 22g | 23g |
| Dietary Fiber | less than 1g | 1g |
| Total Sugars | 13g (13g are added sugars) | 14g (13g are added sugars) |
| Protein | 2g | 2g |
| Vitamin D | 0mcg | 0mcg |
| Calcium | 0mg | 20mg |
| Iron | 0mg | 0.4mg |
| Potassium | 0mg | 50mg |
Ingredients
There are two primary things to note about these ingredients. The first is that Cracker Jack has molasses which is not an ingredient in Crunch 'n Munch. Furthermore, Crunch 'n Munch has butter, which is not an ingredient in Cracker Jack. Both of these ingredients are noticeable in the respective products. However, we also expect they contribute to the coloring of the products. For example, Crunch 'n Munch has a buttery appearance (if that's a thing) whereas Cracker Jack has a darker tone likely from the molasses.
Crunch 'n Munch – corn syrup, sugar, popcorn, peanuts, canola oil, less than 2% of soybean oil, butter, soy lecithin, salt, sodium bicarbonate, citric acid and TBHQ (for freshness).
Cracker Jack – sugar, corn syrup, popcorn, peanuts, molasses, salt, corn and/or soybean oil, and soy lecithin.
Poll: Crunch 'n Munch vs Cracker Jack
Do you have a favorite between Crunch 'n Munch or Cracker Jack? Vote for it below!
---
References:
Kilgannon, Corey. "A Yankee Comeback, With a Prize at the Bottom." The New York Times, 3 June 2004, www.nytimes.com/2004/06/03/nyregion/a-yankee-comeback-with-a-prize-at-the-bottom.html.

Bellis, Mary. "America's Classic Popcorn Snack Was Invented by a German Immigrant." ThoughtCo, 19 Mar. 2019, www.thoughtco.com/f-w-rueckheim-cracker-jack-4070936.