Nathan's and Hebrew National are two of the top five most consumed hot dog brands in the United States. According to Statista.com, 37.09 million American people consumed Hebrew National and 28.9 million people had eaten Nathan's in 2020. Ball Park was the most consumed hot dog with 91.04 million U.S. people eating it in 2020.
Given the popularity of Nathan's and Hebrew National, we decided to do a comparison of these two iconic brands. We think you will find this information useful to help you determine the best hot dog between the two.
Nathan's vs Hebrew National
Taste Test
We had two adults and a 9-year-old taste test these two hot dogs. Here is what they thought:
The testers said the Nathan's tasted beefy with a flavor somewhat similar to a sausage. One person said it had a slight smokey taste.
The Hebrew National was said to taste more like a "real hot dog". It was believed to be milder and have a more palatable flavor by two of the test. One of the testers who preferred the Nathan's over the Hebrew National indicated that the Hebrew National tasted somewhat like baloney lunch meat. To him, it didn't have a good flavor but might taste better with hot dog chili or other condiments.
Overall, one adult and the child selected Hebrew National as their favorite. Of course, the other adult picked Nathan's as the best. Be sure to vote for your favorite, if you have one, in our poll at the bottom of this page!
Appearance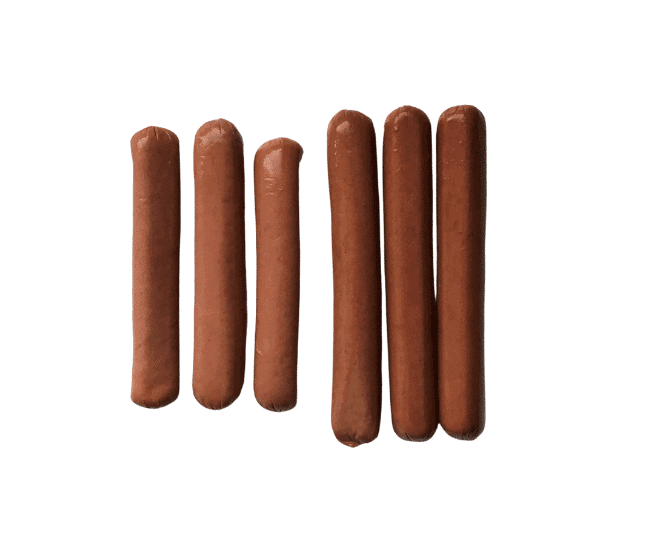 Nathan's (the 3 pictured left) are lighter in color compared to the Hebrew National hot dogs (pictured right). While As you can see, Nathan's are shorter than the Hebrew Nationals. However, Nathan's does make bun-length franks that are closer in size to the Hebrew National dogs pictured above.
As expected, the interior of these hot dogs are similar to their exterior in color. The Nathan's (pictured left) is lighter than the darker Hebrew National on the right. Additionally, the Nathan's seems to hold in more juices compared to the Hebrew National hot dogs.
Ownership & History
Nathan's – Nathan's was launched by Nathan and Ida Handwerker over 100 years ago in Coney Island. It began as a hot dog stand which sold hot dogs made from an old family recipe that came from Ida's grandmother. The hot dogs that can be purchased in grocery stores are produced by John Morrell Food Group who makes many other meat products such as hams, lunchmeat, bacon, and sausage. Nathan's store-bought hot dogs are manufactured based on an exclusive licensing agreement between Nathan's Famous and John Morrell Food Group (a division of Smithfield Foods).
Hebrew National – The company was started in Manhattan in 1905 by Theodore Krainin, a Russian Jewish immigrant. As years passed, Hebrew National developed a strong relationship with the surrounding Jewish immigrant community of New York. The company adopted the motto of "having higher standards than the law requires" and later "We answer to a higher authority" in reference to high standards and compliance with kosher law that the company continues to practice. Conagra Brands currently owns Hebrew National but there are talks that the company may be sold soon to JBS SA, a Brazilian meat processor.
Nutrition
There aren't any major nutritional differences between the brands when you take into account the serving size differences.
| | Nathan's Beef Franks | Hebrew National Beef Franks |
| --- | --- | --- |
| Serving Size | 1 Frank (42g) | 1 Frank (49g) |
| Calories | 130 | 150 |
| Total Fat | 12g | 13g |
| Saturated Fat | 5g | 5g |
| Trans Fat | – | 0.5g |
| Cholesterol | 20mg | 25g |
| Sodium | 480mg | 450mg |
| Total Carb. | 1g | 2g |
| Fiber | 0g | 0g |
| Sugars | 0g | 0g |
| Protein | 5g | 6g |
| Iron | 2% | 4% |
Ingredients
Many of these ingredients are the same. However, one thing of note is that kosher beef is used to make Hebrew National hot dogs. These hot dogs are manufactured under the independent kosher certifying agency, Triangle K. There has been some doubt in the past whether Hebrew National hot dogs are actually kosher, so please do your own due diligence if this is a concern for you.
Nathan's – Beef, Water, Contains 2% or less of Salt, Sorbitol, Sodium Lactate, Natural Flavoring, Sodium Phosphate, Hydrolyzed Corn Protein, Paprika, Sodium Diacetate, Sodium Erythorbate, Sodium Nitrite
Hebrew National – Kosher Beef, Water, Contains 2% or less of Salt, Spice, Sodium Lactate, Paprika, Hydrolyzed Soy Protein, Garlic Powder, Sodium Diacetate, Sodium Erythorbate, Flavoring, Sodium Nitrite
Poll: Nathan's vs Hebrew National
Do you have a favorite between Nathan's and Hebrew National? Vote for it below!
---
References:
Balagur, A. (2020, September 06). King of FRANKS: The history of the Kosher Dog. Retrieved April 23, 2021, from https://www.chowhound.com/food-news/204752/kosher-dogs-history-of-kosher-hot-dogs/#:~:text=Hebrew%20National%2C%20founded%20in%201905,on%20the%20Lower%20East%20Side.