Below, we break down the similarities and differences between Peanut Butter M&M's vs Reese's Pieces in regard to taste, appearance, nutrition, and more. We hope this article helps you learn about these two candies and potentially assists you in discovering the one that you might enjoy the most.
If you already have a favorite between these two peanut butter-filled candies, please vote for it in our poll at the end of this article. We're curious to learn what readers think is the best candy between Peanut Butter M&M's and Reese's Pieces.
Peanut Butter M&M's vs Reese's Pieces
Taste Test
Here are the results of our taste test:
Our taste testers said that the Peanut Butter M&M's had a very mild chocolate taste. However, everyone agreed that the peanut butter flavor was pronounced and the predominant flavor. One person stated that it tasted like a "blast of peanut butter" when you bite into Peanut Butter M&M's.
The peanut butter taste in Reese's Pieces was said to be subtle. One person indicated that they could not taste the peanut butter. Another tester stated that Reese's Pieces tasted like regular M&M's. Most testers agreed that the sugary shell mostly masked the flavor of the peanut butter.
Overall, all our taste testers picked the Peanut Butter M&M's over Reese's Pieces in regard to taste. The tasty and generous portion of peanut butter in the M&M's with its mild chocolate flavor was preferable to the toned-down peanut taste of Reese's Pieces with the shell being the most noticeable flavor.
Exterior Appearance
Peanut Butter M&M's come in the colors of red, yellow, green, blue, orange, and brown. All colors taste the same. Each piece features the classic white "m" on one side. These candies are much plumper compared to the smaller Reese's Pieces (see the image below).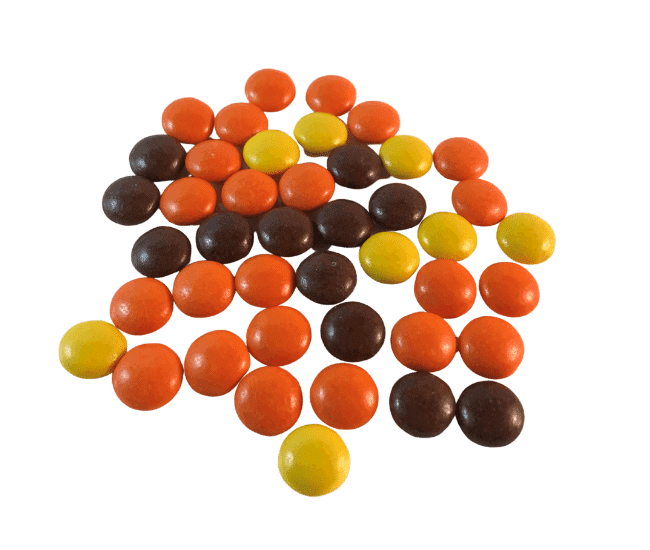 The colors of Reese's Pieces are not as visually appealing compared to Peanut Butter M&M's. Reese's Pieces' colors match the typical Reese's product packaging with the colors of orange, yellow, and brown. All colors taste identical. Unlike M&M's, nothing is printed on the exterior of these candies.
Size Comparison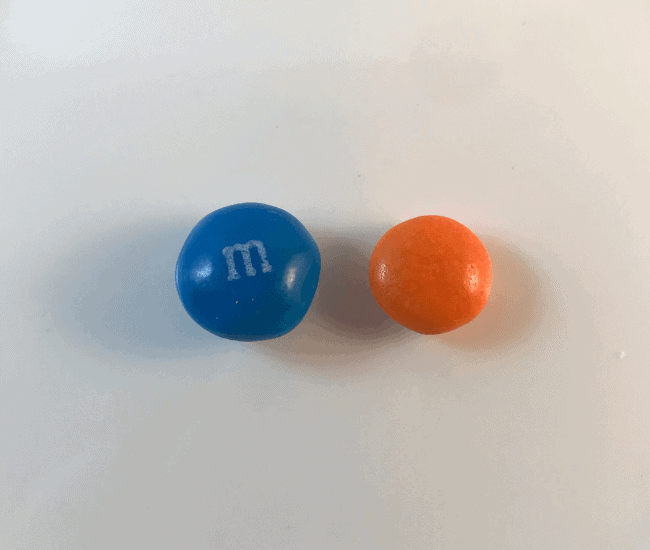 We'd estimate that two Reese's Pieces (pictured right) equal one Peanut Butter M&M (pictured left). This size difference impacts taste, in regard to the peanut butter flavor. Each bite of a Peanut Butter M&M feels loaded with peanut butter whereas the peanut butter in Reese's Pieces feels almost like a secondary flavor.
Interior Appearance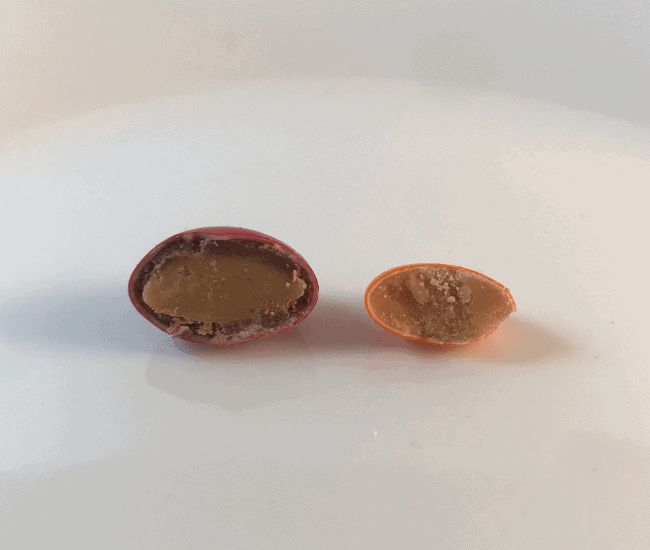 The peanut butter interior of these candies is extremely similar. While it may be difficult to tell from the above photo, the color and texture are nearly identical. One notable difference is the layer of chocolate below the shell of the Peanut Butter M&M's (pictured left) that isn't present inside Reese's Pieces.
Ownership & History
Peanut Butter M&M's – M&M's are a brand of Mars Incorporated. Plain M&M's were launched in 1941 after Forrest Mars, Sr. discovered Spanish Civil War soldiers eating similar colored shell candies that did not melt. M&M's stands for Mars and Murrie. Of course, Mars is the inventor of M&M's. Murrie is Bruce Murrie who took a 20 percent stake in the product. He was the son of William F.R. Murrie, the president of Hershey Chocolate. Hershey's chocolate was used to make the original M&M's. Peanut M&M's first landed on store shelves in 1954. However, it wasn't until 1989 that Peanut Butter M&M's were introduced.
Reese's Pieces – Reese's Pieces are a product of The Hershey Company. They were launched in the United States in 1978 to capitalize on the longtime success of Reese's Peanut Butter Cups. Reese's Pieces were not initially a huge hit with candy lovers. However, the smash-hit movie E.T. was released in the summer of 1982, which greatly helped with the candy's popularity because of several noteworthy scenes featuring the candy in the movie. Reese's Pieces in E.T. is one of the top product placements of all time. Believe it or not, M&M's were the first choice of candy to appear in the movie, however, Mars rejected the offer to have their product featured.
Nutrition
The nutrition data does not significantly differ between these two products. In other words, most people would not opt for one candy over the other simply for slightly better nutrition.
| | | |
| --- | --- | --- |
| | Peanut Butter M&M's | Reese's Pieces |
| Serving Size | 25 pieces (28g) | 38 Pieces (30g) |
| Calories | 146 | 150 |
| Total Fat | 8g | 7g |
| Saturated Fat | 5g | 6g |
| Trans Fat | 0g | 0g |
| Cholesterol | 3mg | 0mg |
| Sodium | 60mg | 35mg |
| Total Carb. | 15g | 19g |
| Fiber | 0g | 1g |
| Total Sugars | 13g | 16g |
| Protein | 2g | 3g |
Ingredients
The most notable difference is that Reese's Pieces do not have chocolate whereas Peanut Butter M&M's have milk chocolate as one of its primary ingredients.
Peanut Butter M&M's – Milk Chocolate (Sugar, Cocoa Butter, Chocolate, Skim Milk, Milkfat, Lactose, Peanuts, Soy Lecithin, Salt, Artificial Flavors), Peanut Butter (Partially Defatted Peanuts), Sugar, Hydrogenated Palm Kernel Oil, Partially Defatted Peanut Flour, Cornstarch, Dextrose, Less than 1% – Corn Syrup, Natural Flavors, Salt, Dextrin, Coloring (Includes Blue 1 Lake, Red 40, Yellow 6, Yellow 5, Blue 1, Red 40 Lake, Yellow 6 Lake, Yellow 5 Lake, Blue 2, Blue 2 Lake), Propyl Gallate to Maintain Freshness, Gum Acacia
Reese's Pieces – Sugar, Partially Defatted Peanuts, Hydrogenated Vegetable Oil (Palm Kernel Oil, Soybean Oil), Corn Syrup, Dextrose, Contains 2% or Less of: Palm Kernel Oil, Artificial Color (Yellow 5 Lake, Yellow 6 Lake, Red 40 Lake, Blue 1 Lake), Salt, Confectioner's Glaze, Lecithin (Soy), Modified Cornstarch, Vanillin Artificial Flavor, Carnauba Wax, Milk.
Poll: Peanut Butter M&M's vs Reese's Pieces
If you had to choose between Peanut Butter M&M's or Reese's Pieces, which one would you select? Vote below!