Cinnamon Toast Crunch (CTC) is one of the most popular cereals ever made. In fact, most cereal lovers have likely had it multiple times but don't know much about it beyond the bowl.
Here you'll learn all the relevant details regarding it including its history, mascots, appearance, ingredients, and more. If you don't leave here learning something new about CTC, you'll at least have a deeper appreciation for the delightful combination of crispy, cinnamon-sugar-coated squares that make it an enduring breakfast favorite!
History of Cinnamon Toast Crunch
Cinnamon Toast Crunch first appeared down the cereal aisle in 1984, a time when big hair and neon colors were all the rage. The masterminds behind this tasty creation were John Mendesh, a scientist, who put in 33 years at General Mills and Elisabeth Trach, a product manager for the company.
The idea for the cereal came from a unidentified child who participated in a radio contest produced by General Mills that asked listeners to come up with a new cereal idea. The child's idea was a cereal that tasted like cinnamon sugar toast.
What did the child receive for coming up with the idea? A Hot Wheels set! Yeah, prizes were generally weak in 80s compared to today's standards.
Today, Cinnamon Toast Crunch is one of the most popular cereals in the United States. Wishlisted, for example, has it at #2 for the top-selling cereals in American based on sales through Amazon and Walmart. In case you were wondering, Honey Nut Cheerios, another brand of General Mills, came in at #1.
Cinnamon Toast Crunch Mascots
The first cereal mascots of CTC were Chef Wendell along with two bakers named Bob and Quello. The trio first appeared together on cereal boxes and in ads in the mid 1980s. In 1991, the sidekicks were axed, leaving Wendell to be the sole mascot to pitch the cereal.
View the culinary masters at work in this throwback CTC commercial:
Wendell began to be less noticeable on cereal boxes around 2009 when he was removed from the front of boxes and only appeared on the back until recently.
So, who are the Cinnamon Toast Crunch mascots now? It's the Crazy Squares. They have actually been around since 2010 helping sell the cereal with the Chef until he was phased out.
However, we think Chef Wendell will someday return. General Mills states the following on its website about him, "So, you just never know when Wendell will make another appearance. Cinnamon Toast Crunch surely wouldn't be what it is without him!"
The box of Original CTC that we recently picked up from the story had the Crazy Squares all over the box. They were on the front and side of the cereal box. There was also a giant Crazy covering the complete surface of the back of the box as pictured below.
Now that we've gone over the classic CTC mascots, which one is your favorite. Vote below! It's for fun and it's free so please consider participating!
<center>
</center>
Appearance
Below you'll see the familiar grooved pieces of Original Cinnamon Toast Crunch covered in what General Mills calls "CINNADUST". CINNADUST is the classic combo of cinnamon and sugar. The bottom photo is a close up of a cereal piece to help you see how it is generously coated.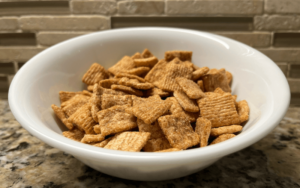 Cinnamon Toast Crunch Commercials
These are some of our favorite CTC commercials through the years:
Go back to the beginning of CTC with one of the original Cinnamon Toast Crunch commercials that introduces the now iconic cereal to the world.
Here is another commercial from the launch year of the cereal where a dude's boombox placed on his shoulder in classic 80s style somehow transforms into a toaster and then pops out a box of CTC.
With no explanation on how it happened, the trio of characters come to life off the CTC box to make more cereal after the current box runs out. The kids don't questions why cartoon characters are suddenly baking up a batch of CTC in their kitchen. They just want more of the delicious cereal!
Wendell gets trapped in a TV after he dives into it to get to a bowl of CTC. Find out how he gets out in this two part commercial.
The Crazy Square mascots are apparently cannibals. Disturbing!
CTC Cereal Products
This is the current cereal line of Cinnamon Toast Crunch products:
Original
Minis
Apple Pie
French Toast
Churros
Rolls
Sugar Cookie
Chocolate
CinnaGraham
Tres Leches
Dulce De Leche
Croque-Cannelle (French Canadian version of CTC)
Curiously Cinnamon (UK version of CTC manufactured by Nestle)
These spinoffs of Original Cinnamon Toast Crunch are no longer made:
Monopoly – CTC with Marshmallow Monopoly Pieces
Blueberry Toast Crunch
Strawberry Toast Crunch
Apple Cinnamon Toast Crunch
Original Cinnamon Toast Crunch Nutrition
Original Cinnamon Toast Crunch has some positive aspects, such as low saturated and trans fat, no cholesterol, a bit of protein, some fiber, and a moderate calorie count. Additionally, it is fortified with vitamins and minerals to help you reach your daily goals.
However, the higher amount of added sugar (24% of daily value) might be a concern if you're aiming for a low-sugar diet. Additionally, while the sodium content is not extremely high, it's worth considering if you're watching your sodium intake.
There are numerous other cereals that are better for the body but don't compare in taste to CTC. Ultimately, the healthiness of the cereal depends on individual dietary preferences and health goals. If you are not overly concerned about added sugars, sodium, and the other negative factors of this cereal, of course, you a free to eat it.
| | As Packaged (Cereal Only. No Milk.) | %DV |
| --- | --- | --- |
| Serving Size | 1 Cup (41g) | – |
| Calories | 170 | – |
| Total Fat | 4g | 5% |
| Saturated Fat | 0g | 0% |
| Trans Fat | 0g | – |
| Polyunsaturated Fat | 1g | – |
| Monounsaturated Fat | 2.5g | – |
| Cholesterol | 0mg | 0% |
| Sodium | 230mg | 10% |
| Total Carbohydrate | 33g | 12% |
| Dietary Fiber | 3g | 11% |
| Total Sugars | 12g | – |
| Incl. Added Sugars | 12g | 24% |
| Protein | 2g | – |
| Nutrient | Amount | % Daily Value |
| --- | --- | --- |
| Vitamin D | 4mcg | 20% |
| Calcium | 130mg | 10% |
| Iron | 3.6mg | 20% |
| Potassium | 0mg | 0% |
| Vitamin A | – | 10% |
| Vitamin C | – | 10% |
| Thiamin | – | 20% |
| Riboflavin | – | 10% |
| Niacin | – | 10% |
| Vitamin B6 | – | 20% |
| Folate | – | 20% |
| Folic Acid | 45mcg | – |
| Vitamin B12 | – | 20% |
| Zinc | – | 20% |
Original Cinnamon Toast Crunch Ingredients

Here are the ingredients of Original Cinnamon Toast Crunch cereal along with a brief description of each ingredient:
Whole Grain Wheat: The entire wheat grain, including the bran, germ, and endosperm, providing fiber and nutrients.
Sugar: Sweetener used to enhance flavor.
Rice Flour: Ground rice, often used to improve texture.
Canola and/or Sunflower Oil: Edible oils used for flavor and texture.
Fructose: A natural sugar found in fruits, often used as a sweetener.
Maltodextrin: A carbohydrate derived from starch, used as a thickener or filler.
Dextrose: A simple sugar, often used as a sweetener.
Salt: It needs no explanation as a flavor enhancer.
Cinnamon: Adds the characteristic cinnamon flavor.
Trisodium Phosphate: A compound used as a acidity regulator and to help with texture.
Soy Lecithin: Extracted from soybeans, used as an emulsifier to improve texture.
Caramel Color: Adds color to the cereal.
BHT Added to Preserve Freshness: Butylated hydroxytoluene, an antioxidant used to prevent the oxidation of fats and oils, preserving freshness.
Vitamins and Minerals:
Calcium Carbonate: Provides calcium, important for bone health.
Vitamin C (Sodium Ascorbate): An antioxidant that supports the immune system.
Iron and Zinc (Mineral Nutrients): Essential minerals for various bodily functions.
A B Vitamin (Niacinamide): A form of vitamin B3, important for energy metabolism.
Vitamin B6 (Pyridoxine Hydrochloride): Supports brain development and function.
Vitamin B1 (Thiamin Mononitrate): Important for energy metabolism.
Vitamin A (Palmitate): Essential for vision and immune function.
Vitamin B2 (Riboflavin): Supports energy production and growth.
A B Vitamin (Folic Acid): Important for cell division and DNA synthesis.
Vitamin B12: Essential for nerve function and the formation of red blood cells.
Vitamin D3: Supports bone health and immune function.
Ingredient FAQ
Does Cinnamon Toast Crunch have dairy?
Cinnamon Toast Crunch cereal does not have dairy. The major food allergens of concern are wheat and soy ingredients. Note that ingredients can change at any time and without notice. View the allergens listed on the cereal box for the most up to date and accurate information.
Does Cinnamon Toast Crunch have nuts?
The cereal does not have nuts. However, review the allergens listed on the box before you buy if nuts are a concern for you.
Does Cinnamon Toast Crunch have added sugar?
Yes, it contains 12 grams per serving (see the nutrition facts above).
Does Cinnamon Toast Crunch have eggs?
The cereal doesn't contain eggs. As usual, check the label before you buy to ensure the cereal is still free of eggs if you are avoiding them.
Does Cinnamon Toast Crunch have Red 40?
Is Cinnamon Toast Crunch whole grain?
Whole grain wheat is the most predominate ingredient in CTC.
Where To Buy Cinnamon Toast Crunch?
Its popularity makes it a staple at most grocery stores. Original CTC is extremely easy to find at stores. You may have some difficultly finding the spinoffs of the Original such as French Toast Crunch or Sugar Cookie.
Of course, it is also available for purchase online through multiple retailers including Amazon:
We're paid commission from purchases on Amazon.
If you are having trouble finding CTC near you, visit cinnamontoastcrunch.com and click the product you wish to find. You can then add your zip code on the product page to find the cereal near you, if available.
Cinnamon Toast Crunch Cereal Box Images