Canned macaroni & cheese is not popular and maybe that is a good thing. We think you'll understand why we say that after you read this Chef Boyardee Mac & Cheese review. Without additional delay, here are the results of our taste test along with other pertinent information regarding this mac & cheese.
Review: Chef Boyardee Mac & Cheese
Taste Test
While Chef Boyardee Mac & Cheese actually looks tasty (see pictures below), don't be fooled.
We found the noodles to taste like they had been boiled too long, left in water overnight, drained, then canned after being sauced.
The classic cheese flavor you'd expect from even a mediocre mac & cheese just isn't there. Instead, you get an artificial cheese flavor that tastes watered down. One of our taste testers stated there is no cheese flavor but rather some weird concoction of poor ingredients. To be fair, there is some cheese in this product (see ingredients section below).
Overall, Chef Boyardee Mac & Cheese is a product that we obviously do not recommend. Keep in mind that we had a 10-year-old try it who loves mac & cheese and likely would eat it every day if her parents allowed it. She took one bite and refused to eat it again.
We truly went into this taste test wanting this mac & Cheese to be at least somewhat decent given its uniqueness of being a canned mac & cheese. There is certainly a convenience factor of being able to heat up mac & cheese from the pantry in minutes. Unfornatuenly, we will never eat this again unless it is some sort of survival situation.
A much better option for about the same price is Michelina's Macaroni & Cheese. It's frozen and not canned but actually tastes similar to mac & cheese unlike what Chef Boyardee offers us. Of course, Kraft and Annie's are also good alternatives for about $1-$1.50 per box.
Appearance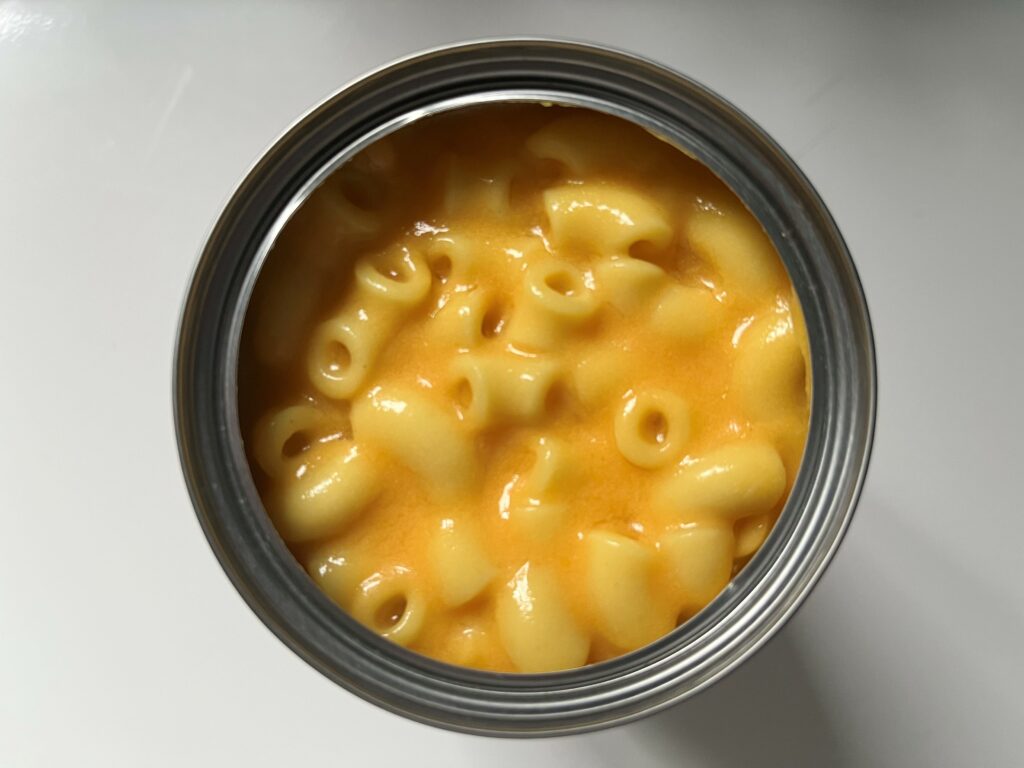 Chef Boyardee Mac & Cheese looks relatively tasty in its can.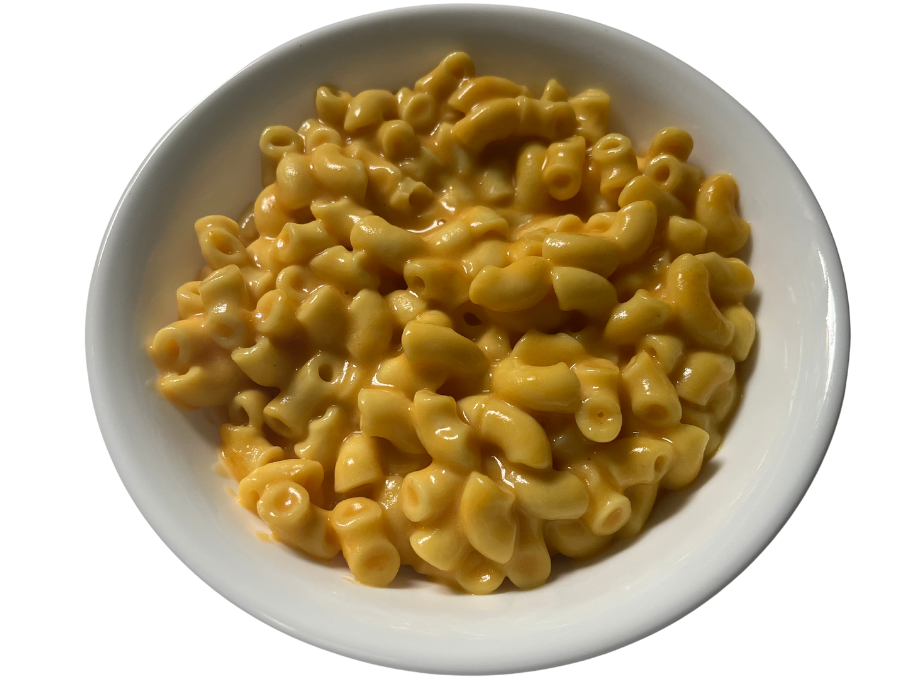 A cooked bowl of Chef Boyardee Mac & Cheese actually looks quite palatable with its plump noodles and glistening cheese sauce. If only its looks matched its taste.
Price
We paid $0.98 at our local Walmart for a 15 oz. can of this mac & cheese. In addition to a can, Chef Boyardee makes its mac & cheese in microwave-safe containers that are shelf stable. While this makes it convenient to prepare, you pay the same $0.98 for half the serving size in a can.
In other words, opt for the can when possible for the most budget-friendly option. The canned mac & cheese can be microwaved. It just needs to be placed into a microwave-safe bowl before heating it for about 1 1/2 minutes.
Nutrition
The American Heart Association recommends a maximum of 2,300 milligrams (mg) of sodium per day, the ideal being 1,500 mg for most adults. If you eat a can of Chef Boyardee Mac & Cheese, you are already above the 1,500 ideal sodium intake (see below). Additionally, a can has 11 grams of fat and 52 grams of carbs. Overall, this is clearly not the healthiest meal option.
| | | |
| --- | --- | --- |
| | | |
| Serving Size | 1 Cup | 1 Can (425g) |
| Calories | 190 | 350 |
| Total Fat | 6g | 11g |
| Saturated | 3g | 5g |
| Trans Fat | 0g | 0g |
| Cholesterol | 10mg | 20mg |
| Sodium | 870mg | 1,590mg |
| Total Carb. | 28g | 52g |
| Dietary Fiber | 1g | 2g |
| Total Sugars | 2g | 4g |
| Includes Added Sugars | 0g | 0g |
| Protein | 6g | 11g |
| Vitamin D | 0mcg, 0% | 0.7mcg, 4% |
| Calcium | 40mg, 4% | 80mg, 6% |
| Iron | 1.1mg, 6% | 2mg, 10% |
| Potassium | 100mg, 2% | 190mg, 4% |
Ingredients
The label makes it abundantly clear that there are no artificial flavors, preservatives, or dyes in this mac & cheese. However, this information does not mean the best ingredients are being used. For example, its cheese flavor consists of items such as a dehydrated blend of whey, granular and blue cheese.
Ingredients: Water, Enriched Pasta (Durum Wheat Semolina, Wheat Protein Isolate [wheat Gluten, Phosphate, Lactic Acid], Niacin, Reduced Iron, Thiamine Mononitrate [vitamin B1], Riboflavin [vitamin B2], Folic Acid), Cheese Flavor (Dehydrated Blend Of Whey, Granular And Blue Cheese [pasteurized Milk, Cultures, Salt, Enzymes], Sunflower Oil, Maltodextrin, Salt, Sodium Phosphate, Citric Acid, Lactic Acid), Less Than 2% Of: Cream, Margarine (Liquid Soybean Oil, Palm Oil, Palm Kernel Oil, Water, Salt, Vegetable Monoglycerides And Soy Lecithin [emulsifiers], Nonfat Dry Milk, Cultured Nonfat Dry Milk, Vitamin A Palmitate, Natural And Artificial Flavors, Colored With Beta Carotene), Modified Corn Starch, Nonfat Milk, Salt, Sodium Caseinate, Turmeric And Paprika (Colors).