Kraft and Annie's are two of the most popular boxed macaroni and cheese brands in the United States. Most people can't remember Kraft not being on grocery store shelves while Annie's is a relatively new brand in comparison.
This article will look at the similarities and differences between these two mac and cheese brands to help you decide the one that is best for you. Note that our comparison only relates to the products pictured above (Kraft Original Flavor and Annie's Classic Cheddar) when it comes to the relevant topics below.
If you already have a favorite between Kraft vs Annie's Macaroni and Cheese, be sure to vote for it in our poll at the end of this article.
Comparison: Kraft vs Annie's Macaroni & Cheese
Taste Test
We prepared each mac and cheese according to the directions on the packages for the richest flavor. Each product was made with 1/4 cup of 2% milk, 4 tablespoons of butter, the powder cheeses, and the boiled noodles. We then tasted both macaroni and cheese products.
We found the Kraft to live up to its name, "The Cheesiest". The super buttery and cheesy flavor was delicious, recognizable, and it was certainly enjoyed by everyone. However, one person called it unhealthy tasting and another person said it flavors tasted artificial.
Annie's tasted more like a homemade pasta that mom may have made back in the day. It undoubtedly was a more natural-tasting macaroni and cheese compared to Kraft. However, Annie's tasted bland when it was eaten next to the explosion of flavor of Kraft.
Overall, it was a tie with our taste testers in terms of which one they preferred. Half enjoyed the familiar intense cheese flavor of Kraft while the other half preferred the toned down and natural flavors of Annie's.
Appearance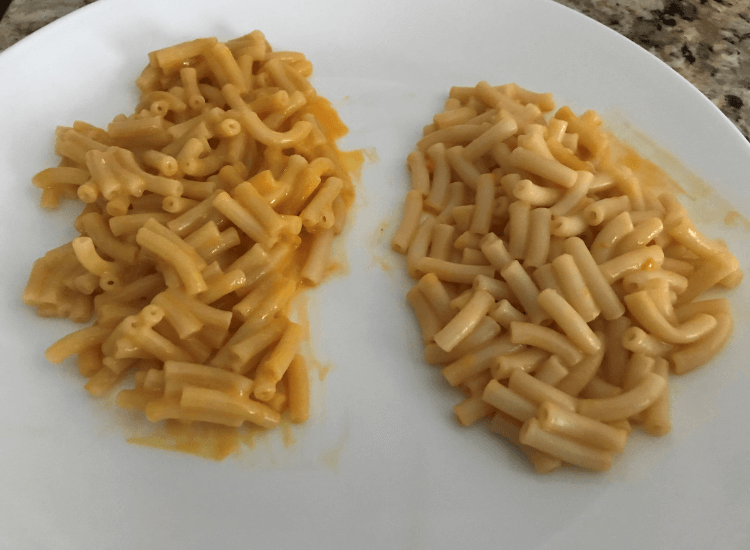 Kraft (pictured left) is a darker and brighter orange compared to the pale orange color of Annie's (pictured right). Additionally, Kraft's noodles are a bit smaller in circumference compared to the beefier Annie's noodles.
Ownership & History
Kraft Mac & Cheese – Kraft Macaroni & Cheese is owned by Kraft Heinz. It first hit store shelves in 1937 and sold an amazing 8 million boxes within a year. It became extremely popular during World War II when 50 million boxes were sold because food stamps allowed users to get two boxes by using one food stamp. Today, it is estimated that over 1 million boxes are sold per day. Kraft can thank Canada for many of its sales. It is said that Canadians eat 55 percent more Kraft Mac & Cheese (called Kraft Dinner in Canada) compared to the U.S.
Annie's Mac & Cheese – The Annie's brand is owned by General Mills. Annie Withey and Andrew Martin founded the company in 1989 with its first product being natural macaroni and cheese. They have since greatly expanded its product offering to include such food items as crackers, cereal, dressings, snacks, and more. General Mills purchased the company in 2014 for $820 million.
Nutrition
| | Kraft (Original Flavor) | Annie's (Classic Cheddar – Organic Pasta) |
| --- | --- | --- |
| Serving Size | Per 1 Cup Prepared* | Per 1 Cup Prepared** |
| Calories | 350 | 370 |
| Total Fat | 11g | 14g |
| Saturated Fat | 4g | 8g |
| Trans Fat | 0g | 0.5g |
| Cholesterol | 10mg | 35mg |
| Sodium | 710mg | 520mg |
| Total Carb. | 50g | 51g |
| Dietary Fiber | 2g | 3g |
| Total Sugars | 10g | 9g |
| Includes Added Sugars | 0g | 0g |
| Protein | 10g | 10g |
| | *Prepared using margarine (4 tbsp.) with 0g trans fat and 1/4 cup 2% reduced-fat milk | **Prepared with 1/4 cup reduced-fat milk and 2 tbsp. Salted Butter |
Please reference the boxes for the current official nutrition facts.
Ingredients
Kraft Mac & Cheese (Original Flavor) – Enriched Macaroni (Wheat Flour, Durum Flour, Niacin, Ferrous Sulfate [iron], Thiamin Mononitrate [vitamin B1], Riboflavin [vitamin B2], Folic Acid), Cheese Sauce Mix (Whey, Milkfat, Salt, Milk Protein Concentrate, Sodium Triphosphate, Contains Less Than 2% Of Tapioca Flour, Citric Acid, Lactic Acid, Sodium Phosphate, Calcium Phosphate, With Paprika, Turmeric, And Annatto Added For Color, Enzymes, Cheese Culture).
Annie's Macaroni & Classic Cheddar (organic pasta) – Organic Pasta (Organic Wheat Flour), Whey, Cultured Cream, Nonfat Milk, Salt, Butter (Pasteurized Cream, Salt), Dried Cheddar Cheese (Cultured Pasteurized Milk, Salt, Non-animal Enzymes), Corn Starch, Citric Acid, Annatto Extract (For Color), Lactic Acid, Sunflower Lecithin, Sodium Phosphate, Silicon Dioxide (For Anticaking).
Prices
Generally, you will pay more for Annie's vs Kraft Mac & Cheese. Based on the average of all stores listed below, Kraft is 45 cents cheaper than Annie's. However, there are major differences in prices based on where you buy your mac & cheese, particularly for Annie's. There is a $1.29 difference between the lowest-priced compared to the highest-priced Annie's Mac & Cheese. If you love Annie's, it may be worth shopping around for the lowest price near you and stocking up.
| Store | Kraft Macaroni & Cheese – Original Flavor (7.25 oz Box) | Annie's Macaroni and Classic Cheddar – (6 oz) |
| --- | --- | --- |
| Walmart | $0.98 | $1.00 |
| Target | $0.99 | $1.19 |
| Kroger | $1.00 | $1.59 |
| Meijer | $1.00 | $1.00 |
| HEB | $0.91 | $1.03 |
| Safeway | $1.25 | $2.29 |
| Albertsons | $0.99 | $2.29 |
| Food 4 Less | $1.00 | not available |
| Wegmans | $0.99 | $1.49 |
| Weis | $1.00 | not available |
| King Soopers | $1.00 | $1.25 |
| Average | $1.01 | $1.46 |
Poll: Kraft vs Annie's Mac & Cheese
Do you prefer Kraft or Annie's Mac & Cheese? Vote for your favorite in our poll.
---
Sources:
Rhodes, Jesse. "Marvelous Macaroni and Cheese." Smithsonian Magazine, 22 Mar. 2011, www.smithsonianmag.com/arts-culture/marvelous-macaroni-and-cheese-30954740.
Myers, Dan. "10 Things You Didn't to Know About Kraft Macaroni & Cheese." The Daily Meal, 9 Dec. 2014, www.thedailymeal.com/eat/10-things-you-didnt-know-about-kraft-macaroni-cheese-0/slide-8.