AriZona is known by most people as a beverage or iced tea brand. That's how the company got its start in 1992. However, they have since added snacks to their product line including Nachos 'N' Cheese, Salsa 'N' Chips, and, of course, Fruits Snacks.
The fruit snacks made by AriZona at the time of this article include Arnold Palmer Half & Half, Green Tea, and Mixed Fruit. Below we specifically review the Arnold Palmer Half & Half Fruit Snacks to help you decide if they are worth buying or are a pass.
AriZona Arnold Palmer Review
Taste Test
These fruit snacks are outstanding! They offer the perfect amount of sweetness to where you don't feel like you are eating a piece of candy or on the other hand, something completely void of flavor. Since the sweetness is not overpowering, you can actually taste the wonderful fruit flavors with a slight background taste of tea.
These are dryer fruit snacks but they are pleasant to chew. As you are on about five chews of a piece, the flavors start to really pop in the mouth and any dryness disappears.
You can review the flavors below, however, it's difficult to tell what you are eating. This is particularly true since the colors of the fruit snacks don't correspond to their flavors. This certainly isn't a negative, especially if it means avoiding artificial coloring.
Overall, these are tasty fruit snacks that many people will enjoy. They are unique compared to fruit snacks like Motts or Welch's since they include tea. The teas (black & green tea extract) may sound like weird ingredients to be in fruit snacks, but they really work and add something positive to the flavor. Maybe if you dislike tea, you won't like these fruit snacks. However, fans of AriZona or tea, in general, should give these a try.
Appearance & Flavors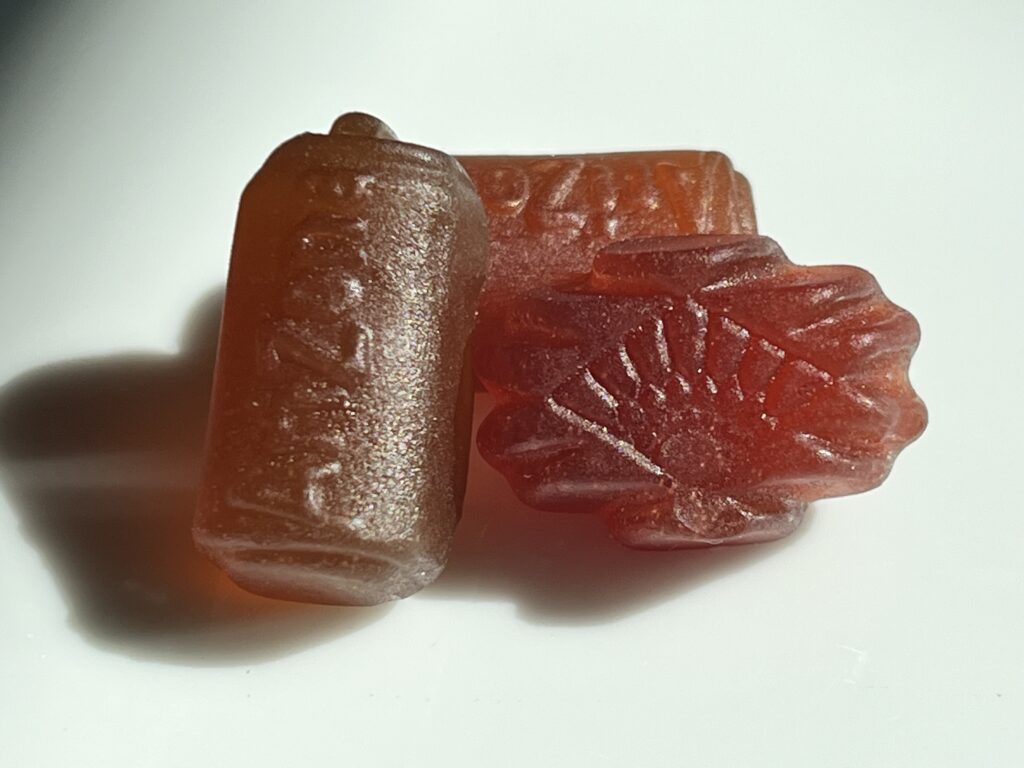 Arnold Palmer Half & Half Fruit Snacks come shaped like AriZona cans and the AriZona logo. The colors are brown and red, as seen in the image. Are these shapes and colors exciting? Not really, but we think the can shape is pretty cool, especially for fans of the many AriZona flavors.
The flavors of these fruit snacks are original, strawberry, mango, and peach.
Nutrition
These fruit snacks aren't so bad in regard to calories at 100 for around 13 pieces. However, they do have 15 grams of added sugar. The American Heart Association recommends a maximin of 36 grams for men and 25 grams for women per day of added sugar. Children under 18 years old are advised to consume only 24 grams of added sugar daily. Consuming 13 pieces of these fruit snacks will cut significantly into your recommended allotment of added sugar.
| | |
| --- | --- |
| Serving Size | About 13 pieces (30g) |
| Calories | 100 |
| Total Fat | 0g |
| Saturated Fat | 0g |
| Trans Fat | 0g |
| Cholesterol | 0mg |
| Sodium | 10mg |
| Total Carbohydrate | 23g |
| Dietary Fiber | 0g |
| Total Sugars | 15g |
| Includes 15g Added Sugars | |
| Protein | 1g |
| Vitamin D | 0mcg, 0% |
| Calcium | 0mg, 0% |
| Iron | 0mg, 0% |
| Potassium | 0mg, 0% |
| Vitamin C | 0mg, o% |
Ingredients
These fruit snacks contain no artificial colors, flavors, or preservatives. We love how the first ingredient is fruit and not sugar or corn syrup like other fruit snack brands such as Mott's.
Overall, the ingredients are pretty solid for fruit snacks and something you won't feel too guilty about the kids eating.
Ingredients: Pear Juice From Fruit Juice Concentrate, Glucose Syrup, Sugar, Modified Food, Starch (Corn), Gelatin, Dextrose; Citric Acid, Green Tea Extract; Black Tea Extract, Natural Flavor, Fruit & Vegetable Juice For Color (Black Currant, Black Carrot, Carrot, Lemon); Color (Paprika Oleoresin); Carnauba Wax
Available Sizes
Arnold Palmer Fruit Snacks are made in three sizes: 10-pack (0.9 oz each bag), 5 oz. bag, and 2.25. oz. bag.