Directly below you will find a list of candies that start with K. Below the list are descriptions of each of these candies if you want additional details about them.
View our A to Z List of Candies if you're looking for candies that start with another letter!
Without further delay, let's unwrap the "K" candies!
List Of Candy That Starts With K
Kafe
Kinder
King Leo
Kisses
Kits Taffy
Kit Kat
Knoppers
Kola Cubes
Kool-Aid Candy
Kopiko
Krabby Patty
Krackel
Kafe
As you might be able to tell by its name, Kafe is a premium coffee candy brand. In fact, it uses real organic coffee to make its handcrafted hard candies.
The candy is made from four simple ingredients: organic cane sugar, organic tapioca syrup, organic spray dried coffee, and organic/natural flavor.
These Chicago made candies are vegan certified and USDA organic. Flavors include Original, French Vanilla, and Caramel Cream.
Kinder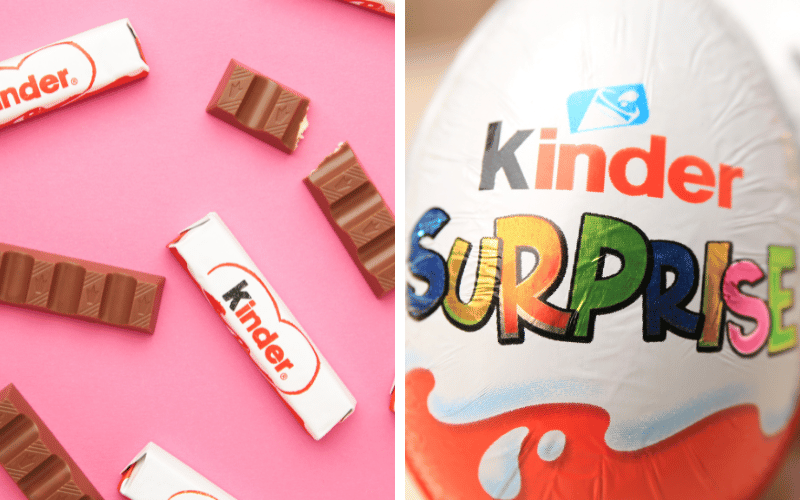 Kinder is a brand of confectionery products made by the Italian company Ferrero. The brand was introduced in 1968 in Europe but didn't arrive in the United States until 2017 when Kinder Joy first appeared there.
After the success of Kinder Joy in America, other Kinder products started to appear such as its Kinder Bueno premium chocolate bars in 2019. Kinder is now the second largest chocolate brand globally and is sold in 170 countries.
The candy is known for its delicious combination of milk chocolate and various creamy or hazelnut fillings. It has undoubtedly become a favorite of many children, especially recently in the United States.
King Leo
King Leo is known for it peppermint stick candy that it has been making for over a century. The first product of the company in 1901 was its King Leo Peppermint Stick Candy. Today, the King Leo brand makes an assortment of pure sugar peppermint candies including the original sticks, soft peppermint puffs, and similar candies.
Kisses
Hershey's Kisses are small, bite-sized, individually foil wrapped chocolates that are shaped like a teardrop. The classic Hershey's Kisses are made from milk chocolate but there are also variations with different flavors and fillings, such as dark chocolate, caramel, and more.
This candy was introduced in the summer of 1907 and their primary structure hasn't changed since. Kisses remain extremely popular today. According to The Hershey Company, they make 70 million of them per day!!! The "per day" part is not a mistake!
Hershey's Kisses are a popular treat for various occasions, such as Valentine's Day, weddings, and holiday baking, and they are often used as decorative elements in desserts and baked goods.
Kits Taffy
Kits is an old school taffy brand that dates back to the 1920s. The candy is sold in small rectangle cubes of taffy that are individually wrapped.
The wrapper colors correspond to the candy flavor. Flavors include chocolate (dark brown wrapper), peanut butter (light brown wrapper), strawberry (pink wrapper), vanilla (white wrapper), banana (yellow wrapper).
Kit Kat
Kit Kat is a popular brand of candy bar that is manufactured by Nestlé in the United States and by other companies in different parts of the world. This iconic candy bar brand was invented in 1935 by Rowntree's based out of York, England.
The classic version of Kit Kat consists of three crispy wafer layers that are separated by milk chocolate. These wafer layers are coated in milk chocolate to form the exterior surface of the bars.
The candy is typically presented in a rectangular bar shape, with each finger-like section of the bar being easily breakable. This allows for easy sharing or the ability to only eat a portion at a time.
Kit Kat bars have a recognizable snap when you break them apart, and this feature is often associated with the brand's slogan "Have a Break, Have a Kit Kat."
The brand offers various flavor variations and limited-edition versions of Kit Kat bars, including dark chocolate, white chocolate, and a wide range of other flavors to cater to different preferences.
Knoppers
Knoppers is a popular candy bar that originated in Germany in 1983. It is manufactured by August Storck KG, a German confectionery company.
Knoppers candy bars are known for their unique combination of layers and flavors. They typically consist of crispy wafers, a milk cream filing, and hazelnut spread. Variations include Black & White, Nutbar, Nutnar Dark, PeanutBar, and CoconutBar.
Kola Cubes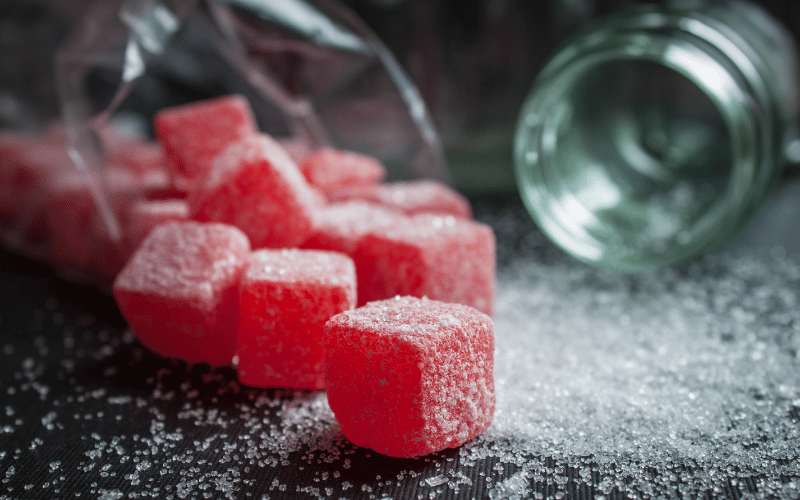 They are cube-shaped, as the name suggests, and are typically colored a reddish-brown. Kola cubes are made by boiling sugar and flavorings, to create a sweet and slightly tangy taste. They provide a sweet treat that can be enjoyed slowly as the hard candy dissolves in the mouth.
The taste is more of a sugary hard candy and not like cola the soda. In other words, don't expect it to taste like a Coca-Cola or Pepsi.
These candies are popular in the United Kingdom and other parts of the world and are enjoyed by people of all ages. Kola cubes are a nostalgic and classic candy that can be found in sweet shops and online retailers. Additionally, they are often sold in bulk or by weight.
Kool-Aid
Hilco Sweets makes an assortment of Kool-Aid branded candies. Products include fruity chews, popping candy, jelly beans, cotton candy, dippers, candy canes, and gummies.
Kopiko
Image: ZeroSixTwo/CC
Kopiko is the top-selling coffee candy brand in the world according to the manufacturer. Real coffee beans from Java are used to make this type of hard candy, which gives the candy a real coffee taste.
You can find Kopiko in 80 countries. Its candy flavors include Regular Coffee and Cappuccino. Each invidually wraped piece contains a small amount of caffeine of around 2 to 5 grams of caffeine.
Krabby Patty
Image: Cathy Cole/flickr
Krabby Patties are the signature burger sold at the Krusty Krab, a fast-food restaurant owned by Mr. Krabs in the TV cartoon show SpongeBob SquarePants. They are a favorite food item of the show's main character, SpongeBob SquarePants, and they are often a central element of various episodes and storylines.
What does this have to do with candy? Well, Frankford Candy makes Krabby Patties in gummy candy form. The candy includes top & bottom buns, the patty, and what looks like a tomato slice.
Krackel
Image: Steven Miller/flickr
This is a candy of Hershey which launched the candy bar in 1938. It's a simple candy bar of milk chocolate and crispy rice. However, sometimes simple is what is best if a traditional Hershey bar is any indication of this.
This candy bar wasn't always composed of minimal ingredients. It once had almonds and peanuts in it but they were replaced by rice in 1941.
Krackel bars are known for their noticeable red packaging and crunchy texture. They are often available in various sizes, including snack-sized bars and larger bars. They can be found in a variety of retail and candy stores.