Here you will find a list of candies that start with D. While you'll likely see some familiar names here, there aren't that many candies that begin with D.
Nevertheless, directly below is the list of candies. Below the list is a brief description of each candy if you want more details on these treats. Without additional delay, let's get into the letter D candies.
View our A to Z List of Candies if you're looking for candies that start with another letter!
List Of Candy That Starts With D
Dad's Root Beer Barrels
Daim
Dairy Milk
Dee Best
Dentyne
Dip Dab
Divinity
Dots
Double Decker
DoubleMint Gum
Dove
Dream
Dubble Bubble
Dum Dums
Dad's Root Beer Barrels
Dad's Root Beer Barrels are a type of hard candy that is flavored to taste like root beer. They are shaped like miniature barrels like used to be used to store and transport real root beer.
Dad's Root Beer Barrels are popular as a nostalgic treat and are often found in candy stores and sold in bulk. They are named after the popular Dad's Root Beer brand, known for its root beer beverages.
Daim
Daim is candy brand made by Marabou, a subsidiary of Mondelez International, the largest chocolate company worldwide. The most well-known product from Daim is the Daim candy bar, which is a thin, rectangular candy bar consisting of layers of almond caramel and milk chocolate.
Dairy Milk
This is a chocolate bar brand made by Cadbury that is a familiar name in the United Kingdom. The Dairy Milk chocolate bar is made from a combination of milk, sugar, and cocoa, giving it a sweet and creamy flavor.
It is divided into squares which makes it easy to break apart and share or eat in portions. The texture is smooth, and the taste is rich and sweet, making it a favorite of many chocolate lovers.
Over the years, Cadbury has introduced various variations of the Dairy Milk bar that incorporate additional ingredients like nuts, fruit, caramel, or cookie pieces to create different flavors and textures.
Dee Best
Dee Best is a brand of candy made by a New York family-owned company called Classic Confections. The brand specializes in fun candies such as Candy Brix, Jewel Pops, and Fizzy Fruits. Other products include taffy, gummies, milk chocolate, and licorice.
Dentyne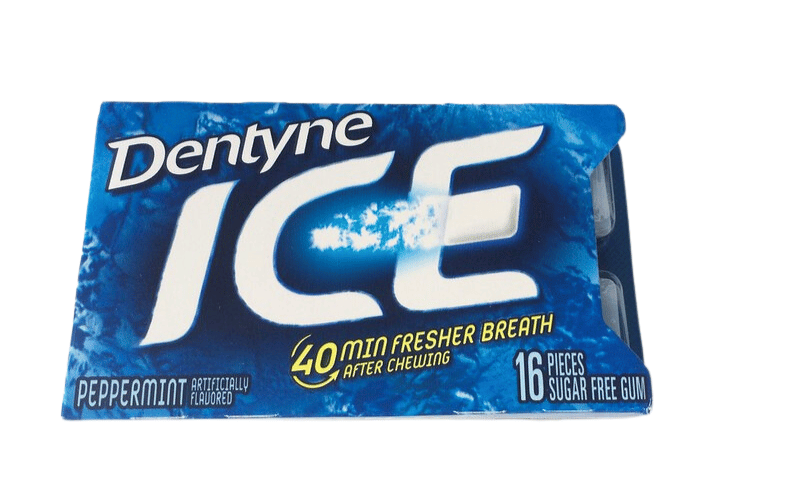 Image: Like_the_Grand Canyon/flickr
Dentyne is an old gum and mint brand that dates back to 1899. It is owned by Perfetti van Melle, a Dutch candy company known for also making Mentos.
Dentyne was originally marketed as a gum to improve dental health. In fact, its name tells you this because its a combo of the words "Dental" and "Hygiene". It is mostly known for its flavorful sugar-free gums including flavors such as Artic Chill, Spearmint, Fire (Cinnamon), and Winter Chill.
Dip Dab
Dip Dab is a popular candy product, especially in the United Kingdom. It is also known as "Sherbet Dip Dab". Dip Dab consists of two main components: a flavored sherbet powder and a fruit-flavored lollipop or candy stick for dipping.
The way it's typically consumed is by licking the lollipop and then dipping it into the sherbet powder to coat it. The sherbet powder is fizzy and has a sweet and slightly tangy flavor. Dip Dab is known for its combination of textures and flavors, making it a fun and nostalgic treat for many people, particularly children.
Divinity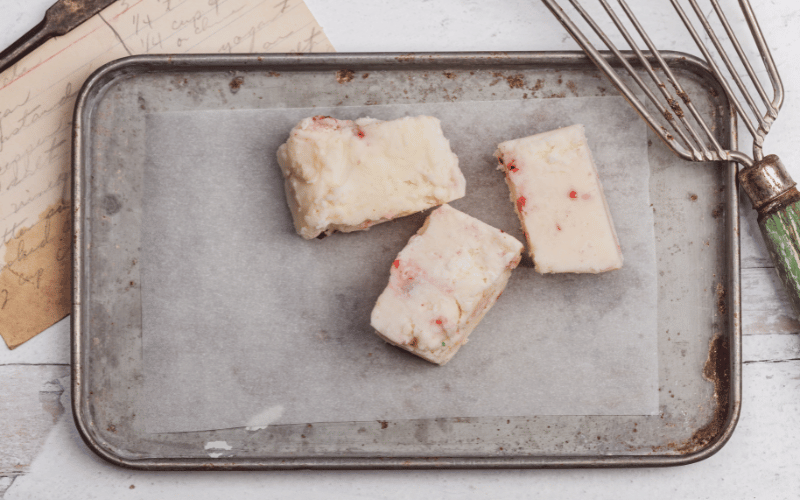 This is a nougat-like candy that is made from egg whites, corn syrup, and sugar. It relatively simple to make at home if you have a candy thermometer. It is also sold commercially by Nancy's Candy, Dillion's and others. However, it isn't as easy to find as other candies.
Dots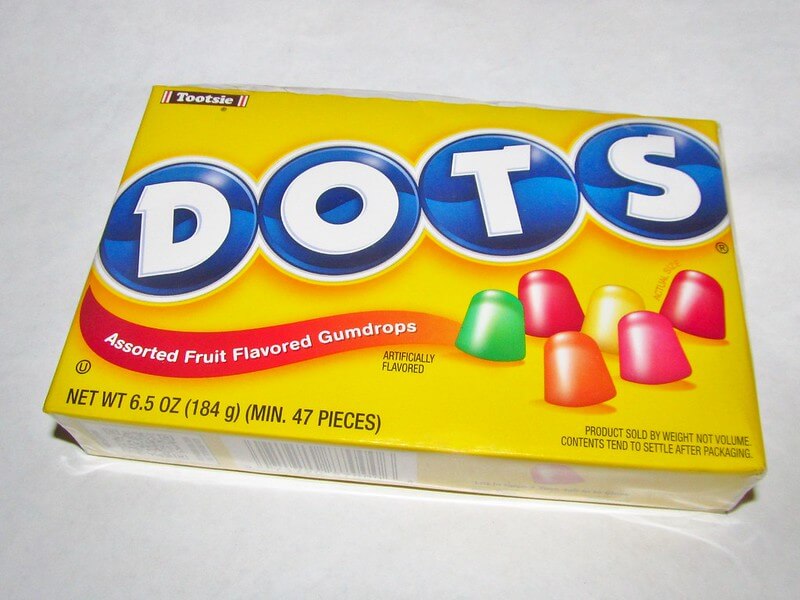 Image: Willis Lam/flickr
Dots are chewy, fruit-flavored gumdrop-like candies. They are produced by Tootsie Roll Industries. You'll often find them in theater box sizes at stores or theaters, of course.
Dots candies are bite sized and oval-shaped that come in various fruit flavors. The Original flavors are Cherry, Lemon, Lime, Orange, and Strawberry. Varieties include Tropical, Sour, and Watermelon, in addition to Original.
Double Decker
It's a candy brand of Cadbury named after a popular style of bus in England. The bar was launched in 1976 and is made of two layers like the bus. The bottom layer is a crispy cereal and the top layer is a soft nougat. These components are surrounding by a layer of milk chocolate.
Variations of the Double included one with raisins and another with nuts that have since been discontinued. Since Double Decker is a candy bar that originates from the UK, it is not readily available for purchase in the U.S.
Doublemint Gum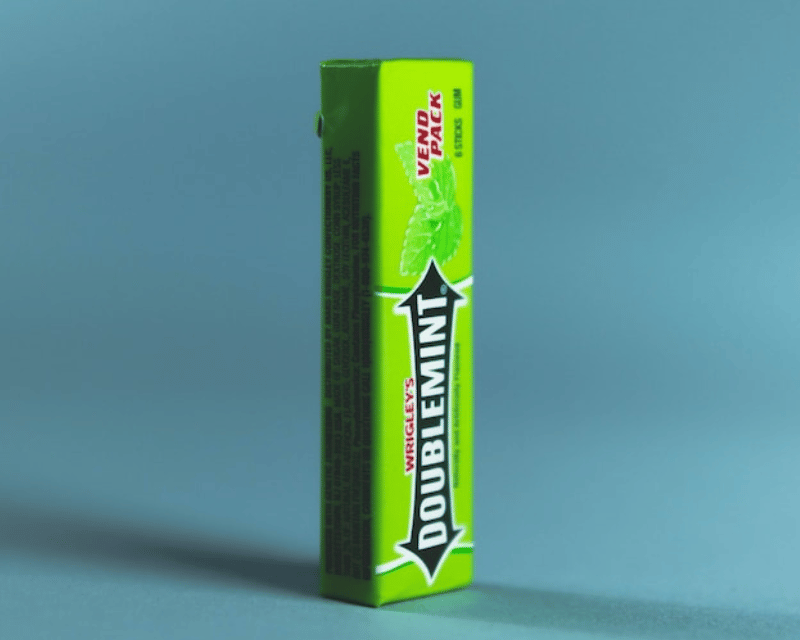 This is a chewing gum brand of Wrigley that first appeared in the U.S. in 1914 and has since become one of the best-selling chewing gum brands across the globe.
According to the Smithsonian Institution, The name "Doublemint" comes from the double distillation process completed during manufacturing to make the mint flavor.
Wrigley would go on to use the "double" theme in its advertising with great success. Readers old enough to remember will remember the use of identical twins in TV commercials used as a play on this theme. The first twins were used around the mid-1950s.
Other related Wrigley gums include Spearmint, Juicy Fruit, Winterfresh, and Big Red.
Dove
Dove chocolates are produced by Mars Incorporated, the same company that makes popular brands like M&M's, Snickers, and Twix. Dove Chocolate is known for its smooth and creamy texture, and it is often sold in various forms.
Dove Promises are one of the most popular products of the brand. These are individually wrapped, square-shaped pieces of chocolate with inspiring messages on the inside of the wrapper. They come in various flavors, such as milk chocolate, dark chocolate, and dark chocolate & mint swirl, and may contain fillings like caramel or nuts.
Dream
The Cadbury Dream bar is a white chocolate bar that is known for its creamy and sweet flavor. It was first introduced in 2002 and has mixed success. The bar seems to have had some success in Australia where it was launched but has struggled to sell in the UK.
Dubble Bubble

This brand of Tootsie Roll is known for its individually wrapped pieces of bubble gum. Flavors include Original, Pink Lemonade, Blue Razz, Apple, Sour Cherry, Grape, and Watermelon.
The gum was invented by an accountant of the Fleer Candy Company in 1928. The man's name was Walter Diemer and he is credited for producing the first bubble gum ever. He used pink for its color because it was the only color he had available. The color remains the classic bubble gum color to this day.
Dum Dums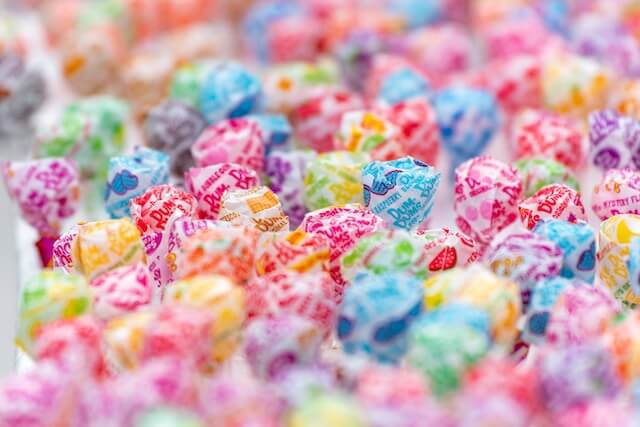 These lollipops are known for their small size and their wide variety of flavors. Dum Dums are produced by Spangler Candy Company, which is an American candy company that has been in operation since the 1930s.
The Akron Candy Company is credited for introducing these suckers in 1924. Spangler acquired Dum Dums in 1953 and is now the top lollipop factory worldwide.
The name "Dum Dums" was used simply because it was easy for kids to pronounce.
The lollipops are typically small and are often given away as treats in offices, restaurants and other places as a gesture of goodwill. They are also commonly used in educational settings for counting, sorting, and as rewards for children.
Today, Spangler makes over 12 million Dum Dums a day in Byron, Ohio. In comparison, they were making 2 million a day in 1959.