We taste-tested the five products pictured above to find out which one was the best canned hot dog chili. This was one of the most difficult taste tests we completed because after hot dog two or three the ability to detect the flavors of each chili became challenging. Nevertheless, the taste testers felt confident that they got things rights with their rankings.
The hot dogs were warmed on a skillet and served in a standard (white) hot dog bun. The hot dogs were covered separately with each of the five chilis. No additional toppings were added to the hot dogs such as mustard.
Here are the results of our taste test starting with the least favorite at five and moving up to the best of the best at one.
5 Best Hot Dog Chilis in a Can
5. Hormel (No Beans)
Hormel was the clear least favorite during our taste test. The mix of beef and pork didn't sit well with the testers. They questioned why there was pork in this chili considering no quality homemade version has this ingredient. It was said to be too mild and could benefit from more spices such as garlic and chili powder. One tester stated that if mustard and onions were added that it could pass as a mediocre hot dog chili.
Price Paid: $1.77 (15 oz.)
Price per oz.: .12 cents
Ingredients: Water, beef and pork, textured soy flour, oatmeal, corn flour, chili powder (chili peppers, flavoring), contains 2% or less of sugar, salt, modified cornstarch, hydrolyzed soy, corn, and wheat protein, tomato paste, flavoring, yeast extract, spices
4. Tony Packo's
Tony Packo's was the meatiest chili that was tested. The beef was said to be extremely favorable and added a lot of heartiness to the chili. This was compared to the look of finely ground taco seasoned meat. It also had a nice level of spice that was a pleasant surprise to the testers. However, it was a bit too spicy for one of our testers. The bottom line is that if you like a meaty hot dog chili, this will likely rank higher on your list of the best hot dog chilis.
Price Paid: $2.59 (7 1/2 oz.)
Price per oz.: $0.35
Ingredients: Beef, water, chili spice (chili pepper, spices, salt, garlic), soy protein concentrate, sugar, salt, modified cornstarch, garlic, lecithin.

3. Wolf (No Beans)
This is another chili with beef and pork. However, the mixture was much more desirable to the testers compared to the other beef and pork chili, Hormel. It was said to have a smooth and spicy flavor. One tester stated that it had a nice balance of flavors that you'd expect from a quality store-bought hot dog chili. Everyone agreed that the texture was spot on with small pieces of meat blending well with the other flavors in the chili. It was believed to have the perfect "thickness" of any chili on the list.
Price Paid: $1.75 (15 oz.)
Price per oz.: $0.12
Ingredients: Meat ingredients (beef and pork), water, tomato puree (water, tomato paste), beef broth, whole rolled oats, chili pepper, contains less than 2% of: salt, sugar, spices, garlic powder, soy lecithin, caramel color, sodium phosphate.
2. Skyline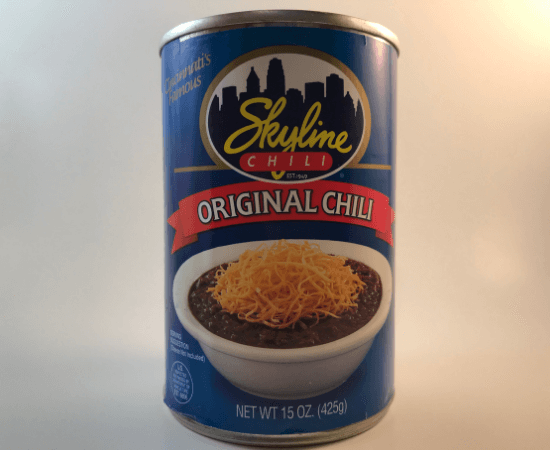 One of the most expensive hot dog chilis on the list did not disappoint. The spices were said to be a bit more complex than any other chili tasted. It was mostly said to have a nice blend of flavors of onion, garlic, and a pleasant but subtle cumin-like flavor. We say "cumin-like" since cumin is not officially listed as an ingredient.
Skyline doesn't mess around with trying to manipulate the color of the chili with added ingredients (this is a good thing). Therefore, this chili takes on a natural darker tone, which was not stated to be negative.
Additionally, this is an extremely thin chili. Looking at it in the pan, some people might wonder if it is going to flow off the hot dog once served. However, it stayed on just fine, even when being tilted for eating purposes. Some of the testers disliked the thinner texture and said the chili would be better if it were thicker with a bit more flavoring (spices).
Price Paid: $4.24 (15 oz.)
Price per oz.: $0.28
Ingredients: Beef, Water, Tomato Sauce (Water, Tomato Paste), Dried Yeast Spices Salt, Dehydrated Onion, Garlic, Paprika, and Natural Flavors.
1. Castleberry's
Most testers agreed that this was what you'd expect for a classic chili dog flavor. The texture was said to be perfect with a good blend of beef and bean flavors. Some testers noted a subtle tomato flavor that added a pleasant additional element of flavoring. It was commented that no one flavor overwhelmed the chili. It was said to have an excellent balance that would please the most palates around the kitchen table compared to any other chili tested. A tester stated that this would be a good chili for kids or for use on fries instead of a hot dog. Keep in mind that this is not a spicy chili so look elsewhere if spice is what you desire.
Price Paid: $0.82 (10 oz.)
Price per oz.: $0.082
Ingredients: Water, crushed beans, beef fat, tomatoes, mustard and musard bran (water, vinegar, mustard seed, mustard bran, salt, turmeric), less than 2% salt, soy protein concentrate, brown sugar, monosodium glutamate, flavorings, caramel color, oleoresin paprika.
Final Thoughts
This taste test is not so black and white compared to other tests we completed. For example, the favorability of a given hot dog chili depends greatly on individual preferences such as beans vs no beans, pork vs no pork, or spicy vs mild.
Texture also can play a big part in preference with there being some major differences in brands. For example, the thin texture of Skyline versus the hearty and thick Tony Packo's.
If anything, don't pick your canned hot dog chili based on price. The least expensive product was rated the best during our taste test. An examination of the ingredients and various reviews of the chili is a better method.