Here you will find a comparison of Orville Redenbacher's and Pop Secret Popcorn. If you already have a favorite between these two brands, please vote for it in our poll at the end of this article.
Orville Redenbacher vs Pop Secret
Taste Test
We completed a taste test of the two classic butter popcorn varieties pictured above. Here is what we found:
The Pop Secret was slightly fluffier than Orville and had a light butter taste. One of our testers said it could use more salt. Another person said it tasted a bit blanded.
Orville Redenbacher was the clear winner of our taste test. It was more flavorful with almost a perfect amount of salt and butter. One person said it tasted close to movie theater popcorn with another person stating it tasted freshly popped and not from the microwave.
Overall, we don't think most people would be disappointed eating Pop Secret on its own. However, when it is compared directly with Orville Redenbacher, it's no match.
Appearance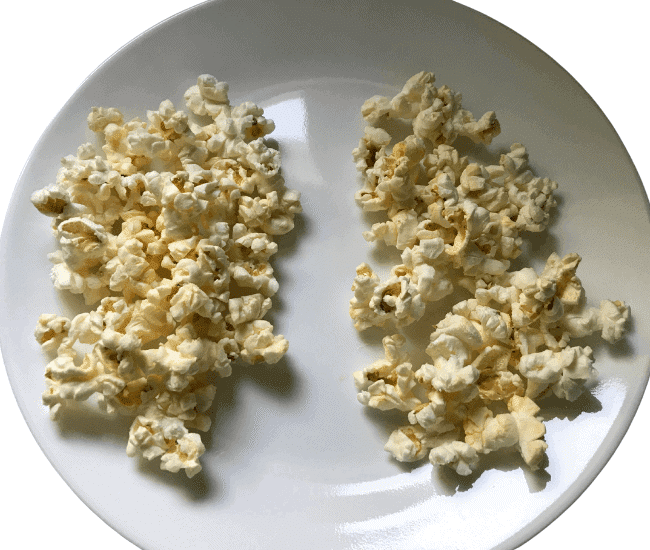 For what it's worth, Orville Redenbacher is on the left, and Pop Secret is on the right in the photo above. Unlike some of our past comparisons like Cracker Jack vs Crunch 'n Munch, it is extremely difficult to tell these two popcorns apart visually. We suppose that is to be expected for most regular popcorns.
Ownership & History
Orville Redenbacher's – If you're in your mid to late 30s or older, you may remember Orville Redenbacher, the man, appearing in his popcorn commercials. He was known for wearing a bow tie and horn-rimmed glasses in these commercials while spreading the wisdom of his superior popcorn.
Redenbacher not only looked smart on TV, he actually was smart. He obtained a degree from Purdue in agronomy (soil science & crop specialist) and had a notable career in the agricultural industry. During his free time, he worked with popcorn and eventually acquired a seed corn plant company where he and his partner Charlie Bowman experimented with hybrid strains of popcorn.
After extensive experiments with hybrids, Redenbacher and Bowman developed a new strain of popcorn. This lead to the men launching the popcorn company called Orville Redenbacher's in 1970. Today, the brand is owned by ConAgra. Mr. Redenbacher died in 1995.
Pop Secret – Pop Secret is one of the many brands of Synder's-Lance who is known for its pretzels among other snacks. Synder's-Lance is owned by its parent company, Campbell's Soup Company. Pop Secret was first sold in stores in 1986 and was initially manufactured by General Mills.
Popularity
Orville Redenbacher's and Pop Secret are the two most popular popcorn brands in the United States. Based on data from Statista, 65.59 million U.S. people consumed Orville Redenbacher's in 2020. 49.16 million Americans ate Pop Secret in 2020. In third came Act II at 49.16 million, store brand at 45.36 million came in fourth, and fifth was Cracker Jack at 45.36 million. Clearly, you're not alone if you enjoy any of the above-mentioned popcorn brands.
Products
While this article focuses on the classic butter popcorns for each brand, there several other varieties of popcorn produced by Orville and Pop Secret. These products are:
Orville Redenbacher's
Movie Theater Butter
Mini Size Movie Theater Butter
Pour Over Movie Theater Butter
Movie Theater Butter Tub
Ultimate Butter
Butter
Mini Size Butter
Light Butter
Tender White
Home Recipe
Kettle Corn
Cheddar Cheese
SmartPop! Kettle Corn
Mini Size SmartPop! Popcorn
SmartPop! Butter
Mini Size SmartPop! Butter
Naturals – Simply Salted
Naturals Light – Simply Salted
Naturals Light – Classic Butter & Sea Salt
Avocado Oil Popcorn
Mini Avocado Oil Popcorn
Skinnygirl Butter & Sea Salt
Skinnygirl Lime & Salt
Original Yellow Gourmet Kernels
White Corn Gourmet Kernels
Pop Secret
Butter
Movie Theater Butter Jumbo Pop
Extra Butter
Double Butter
Homestyle
Butter Jumbo Pop
Kettle Corn
Sea Salt
94% Fat-Free Butter
Light Butter
100 Calories 94% Fat-Free Butter
100 Calories 94% Fat-Free Kettle Corn
100 Calories Kettle Corn
100 Calorie Butter
100 Calorie Homestyle
Sweet 'n Crunchy Caramel
Sweet 'n Crunchy Kettle Corn
Kidz Galactic Butter
Kidz First Order Kettle Corn
Pumpkin Spice Pop Corn (Limited Edition)
Popfetti (Limited Edition)
Jumbo Popping Corn
Kernel Packs
Ingredients
The ingredients for Orville Redenbacher's and Pop Secret classic butter popcorns are listed below.
Orville Redenbacher's – Whole grain popping corn, palm oil, salt, butter, color added (annatto, turmeric, paprika), natural flavors, mixed tocopherols (Vitamin E for freshness).
Pop Secret – Whole grain popcorn, palm oil, salt, natural flavors, annatto, paprika.
Poll: Orville Redenbacher vs Pop Secret
Pick your favorite between Orville Redenbacher and Pop Secret!