Baby Ruth and Payday are classic candy bars with peanuts that have been around for about a century. Below you'll find a comparison of the two to help you decide the bar that is right for you. If you have already tried both, be sure to vote for your favorite in our poll!
Baby Ruth vs Payday
Taste
We typically do a taste test of the products we compare. However, we suspect most readers have tried both of these candy bars at least once and are familiar with their taste. Instead, we ask readers to vote for their favorite between the two in the poll below.
Note that the poll is for fun! We aren't collecting data, personal info, emails, etc. with it. Simply vote and view the results.
Appearance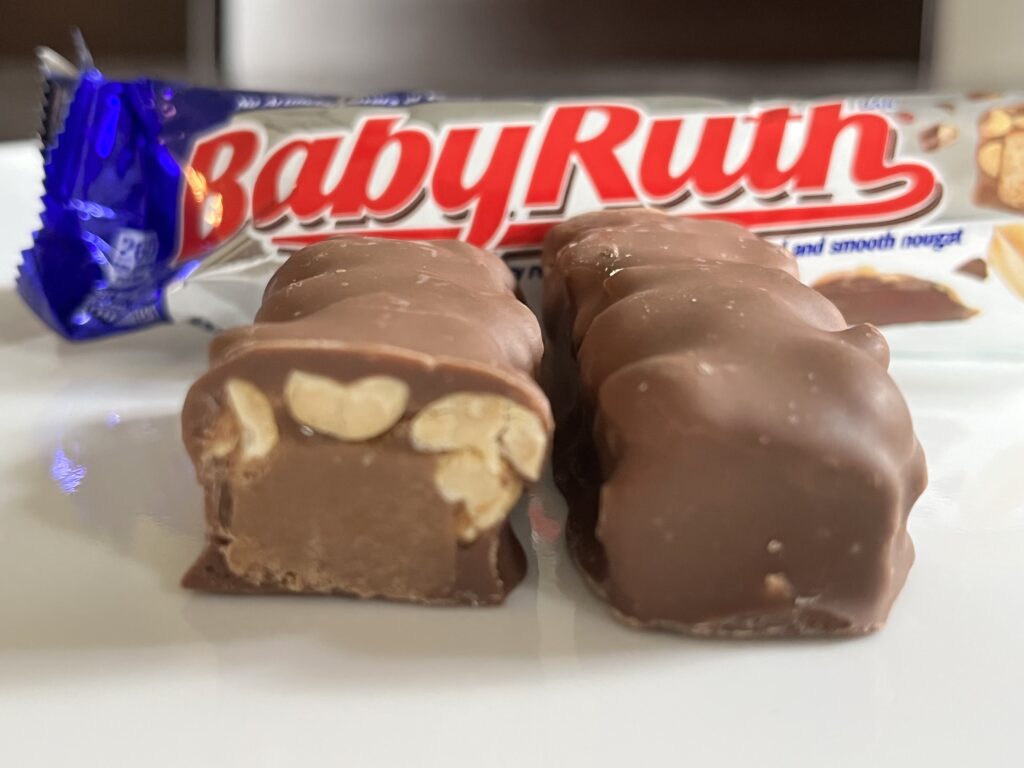 A cut-in-half BabyRuth is pictured left. It contains dry roasted peanuts, caramel, and a nougat center that is covered in chocolate.
Payday contains a caramel center that is surrounded by peanuts. Unlike countless other candy bars, this one lacks chocolate.
Note that Payday now also makes a Chocolately Payday candy bar. It is essentially what you see pictured above but covered in chocolate. Chocolately Payday may sound like a Snickers but it lacks nougat as a primary ingredient.
Nutrition
Overall, Payday is a better option nutritionally. It has fewer calories, saturated fat, sodium, carbs, and sugar. Addionally, it has 4 grams more protein.
| | Baby Ruth | Payday |
| --- | --- | --- |
| Serving Size | 1 Bar – 1.9 oz. (53.8g) | 1 Bar – 1.85 oz. (52g) |
| Calories | 260 | 240 |
| Total Fat | 12g | 13g |
| Saturated Fat | 7g | 2.5g |
| Trans Fat | 0g | 0g |
| Cholesterol | 0mg | 0mg |
| Sodium | 130mg | 115mg |
| Total Carbs | 35g | 27g |
| Fiber | 1g | 2g |
| Sugar | 28g (incl. 26g added sugar) | 20g (incl. 18g added sugar) |
| Protein | 3g | 7g |
| Vitamin D | 0% | 0% |
| Calcium | 0% | 4% |
| Iron | 2% | 6% |
| Potassium | 2% | 4% |
Ingredients
Baby Ruth – Sugar, Dry Roasted Peanuts, Corn Syrup, Hydrogenated Vegetable Oil (Palm Kernel, Coconut And Soybean), Nonfat Milk, Cocoa, High Fructose Corn Syrup, Less Than 2% Of Glycerin, Dairy Product Solids, Salt, Dextrose, Soy Lecithin, Lactic Acid Esters, Carrageenan.
Payday – Peanuts, Sugar, Corn Syrup, Skim Milk, Vegetable Oil (Palm Oil, Sunflower Oil), Contains 2% Or Less Of: Salt, Carrageenan, Mono- And Diglycerides.
Introduction Date
Baby Ruth – The Curtiss Candy Company introduced this candy bar in 1921. It was reformulated from an existing candy bar called Kandy Kake. Kandy Kake was made with milk chocolate, peanuts, and a pudding interior. The new Baby Ruth bar kept the chocolate and peanuts, eliminated the pudding, and added caramel and nougat.
Payday – The Hollywood Candy Company is credited for creating the Payday candy bar. It was introduced by them in 1932.
How Were They Named?
Baby Ruth – Babe Ruth, the baseball player, was a huge figure in sports when Baby Ruth candy was introduced in 1921. However, the manufacturer of Baby Ruth at the time claimed the candy was named after Ruth Cleveland (President Grover Cleveland's daughter) and not the famous baseball player. Many people don't believe this explanation given Ruth Cleveland died in 1904, some 17 years prior to the candy bar being released. Meanwhile, Babe Ruth was in the prime of his baseball career.
Payday – The Payday candy bar received its name from being the actual payday of the Curtiss Candy Company on the day the candy bar was first made.
Who Makes Them Now?
Baby Ruth – Baby Ruth is currently made by the Ferrara Candy Company. Ferrera purchased Baby Ruth in 2018 when the company acquired Nestlé's USA confectionery product line.
Payday – The Hershey Company makes this candy bar. They have been making it since 1996 when they acquired the brand from its previous manufacturer, Leaf North America.
Has Baby Ruth Been Discontinued?
No, Baby Ruth has not been discontinued. There may have been some disruption in distribution or manufacturing in the past because of events like the pandemic or changes in ownership.
However, the Ferrara Candy Company is making Baby Ruth candy bars to this day and the candy is readily available. We have recently found them at CVS, 7-11, and Meijer to name a few stores.
In case you were wondering, they also still make Payday.
---
Sources:
Klein, C. (2014, September 25). Babe Ruth or Baby Ruth: Who was the candy bar named after? History.com. Retrieved June 24, 2022, from https://www.history.com/news/babe-ruth-v-baby-ruth