Stove Top and Pepperidge Farm are two of the most popular stuffing brands you can find in U.S. grocery stores. Given their popularity, we decide to compare the brands to help readers decide on the stuffing that is best for them. The stuffings we used for comparison are pictured above which includes Stove Top for Chicken and Pepperidge Farm Herb Seasoned Classic Stuffing.
Stove Top vs. Pepperidge Farm Stuffing
How They Are Prepared
The directions to prepare each stuffing are reflected below. Stove Top is easier to prepare since it only requires a pan, water, and margarine/butter. Pepperidge Farm is a bit more complex because it needs butter, diced onion, diced celery, and chicken broth.
We'd estimate you'll spend an extra 8 to 10 minutes dicing and cooking the veggies that go into Pepperidge compared to the easier prepared Stove Top.
Stove Top
Bring – 1-1/2 cups water and 1/4 cup (4 Tbsp.) margarine or butter to a boil in a medium saucepan.
Stir in stuffing mix; cover.
Remove from heat. Let stand 5 min. Fluff with fork.
Pepperidge Farm
Heat butter in a 4-quart saucepan over medium-high heat.
Add onion (1 cup diced) and celery (1 cup diced). Cook until veggies are tender-crisp.
Add broth (2 cups chicken broth) and heat to boil.
Remove saucepan from heat. Add stuffing and mix lightly.
Leave stuffing mixture in saucepan. Cover and let stand 5 minutes.
Fluff with fork before serving.
Taste Test
Pepperidge Farm is the much better stuffing. Our taste tester said it was fluffier and tasted much more homemade compared to Stove Top. The testers also indicated it tasted fresher with a real bread taste, unlike the Stove Top. Everyone said the seasoning was spot on with Pepperidge without being overpowering or too bland.
The testers thought the Stove Top was flavorful but one tester stated it was overseasoned. The testers all agreed that the Stove Top tasted more manufactured compared to Pepperidge's homestyle flavor. The stuffing was stated to be soggy and basic.
Despite Pepperidge Farm stuffing having a longer prep time, we think it's worth putting in the extra effort instead of opting for Stove Top. It's a superior product with the fresh vegetables adding an element of flavor that you just aren't going to get with Stove Top. Stove Top is a good option if you want stuffing fast but it's simply inferior to Pepperidge.
Appearance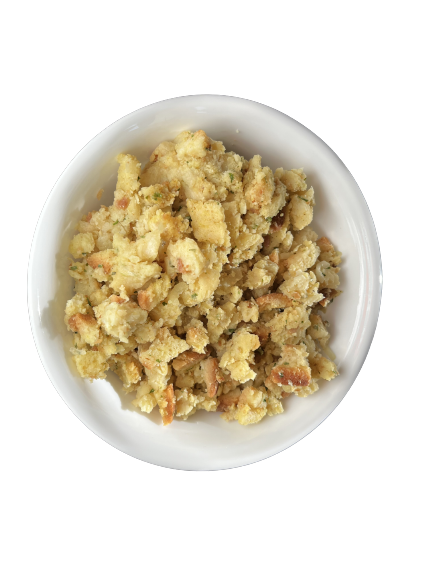 Stove Top for Chicken is a basic stuffing with pale yellow coloring and speckles of vegetables or spices mixed into it.
Pepperidge Farm Classic Stuffing features a homemade style of stuffing with fresh diced onions and celery mixed into the fluffy stuffing.
Nutrition
The nutrition facts below represent the stuffings as packaged and not as prepared with added ingredients such as butter or margarine. Overall, there are no major differences in nutrition. We suspect that most people will consider other factors than nutrition when deciding between these stuffing brands.
| | Stove Top – Chicken | Pepperidge Farm Herb Seasoned Classic Stuffing |
| --- | --- | --- |
| Serving Size | 1/6 Box (28g) | 1/2 Cup (29g) |
| Calories | 110 | 110 |
| Total Fat | 1g | 1g |
| Saturated Fat | 0g | 0g |
| Trans Fat | 0g | 0g |
| Cholesterol | 0mg | 0mg |
| Sodium | 390mg | 410mg |
| Total Carbs | 21g | 22g |
| Dietary Fiber | <1g | <1g |
| Total Sugars | 2g | 2g |
| Incl. Added Sugars | 2g | 2g |
| Protein | 3g | 2g |
| Vitamin D | 0% | 0% |
| Calcium | 0% | 2% |
| Iron | 8% | 8% |
| Potassium | 0% | 0% |
Ingredients
We don't feel great about high fructose corn syrup being in our stuffing as is the case with Stove Top. We also don't care for the use of seed oils such as soybean or canola found in both stuffings. Furthermore, the maltodextrin in Stove Top is also a potential concern along with other ingredients that most of us are unfamiliar with.
The bottom line is that these are processed foods that provide a convenience in regard to being relatively quick to prepare but don't have the best ingredients compared to say quality homemade stuffing that lacks the ingredients we can barely pronounce.
Stove Top – Chicken: Enriched Wheat Flour (Wheat Flour, Niacin, Reduced Iron, Thiamin Mononitrate [vitamin B1], Riboflavin [vitamin B2], Folic Acid), High Fructose Corn Syrup, Onion, Contains Less Than 2% Of Salt, Hydrolyzed Soy Protein, Yeast, Interesterified Soybean Oil, Cooked Chicken, Celery, Monosodium Glutamate, Parsley, Spice, Maltodextrin, Potassium Chloride, Sugar, Chicken Broth, Turmeric (Color), Silicon Dioxide As An Anticaking Agent, Disodium Guanylate, Disodium Inosinate, Natural Flavor, With BHA, BHT And Rosemary Extract As Preservatives.dried
Pepperidge Farm – Herb Seasoned Classic Stuffing: Enriched Wheat Flour (Flour, Niacin, Reduced Iron, Thiamine Mononitrate, Riboflavin, Folic Acid), Whole Wheat Flour, Salt, Sugar, Contains 2% Or Less Of: Yeast, Vegetable Oils (Canola And/or Palm), Molasses, Spices, Celery, Onion Powder, Calcium Propionate To Extend Freshness, Malted Barley Flour, Rosemary Extract And Ascorbic Acid To Protect Flavor, Soy Lecithin.
Who Makes Them
Stove Top: This stuffing is made by the food giant, Kraft Heinz. It was introduced in 1972 by General Foods. General Foods was purchased by Philip Morris in 1985. Philip Morris then went on to acquire Kraft Foods in 1988. During the 1990s, Kraft and General Foods were combined into one company under the Kraft name. In 2015, Kraft merged with H.J. Heinze to form Kraft Heinz as the company stands today.
Pepperidge Farm Stuffing – Pepperidge Farm is the manufacturer of this stuffing brand. The parent company of Pepperidge is the Campbell Soup Company (Campbell's). Campbell's has owned Pepperidge Farm since 1961. Pepperidge Farm is known for producing a variety of quality foods such as cookies, Texas toast, rye bread, and much more.
Pricing
We paid $3.49 for Pepperidge Farm and $2.39 for Stove Top at our local Meijer store. The $1.10 difference might seem significant to some people but you get more stuffing with Pepperidge Farm versus Stove Top. Pepperidge Farm gives you 12 servings at a 1/2 cup (29g) per serving. The Stove Top that we purchased had 6 servings at 1/2 cup (28g) per serving.
Pepperidge Farm stuffing is actually cheaper than Stove Top when you factor in their different sizes. Of course, it depends on where you shop since prices vary.