We bought five of the most popular canned enchilada sauces from the store (pictured above). We then baked chicken enchiladas in several baking dishes with the store-bought enchilada sauce covered on top of them. We then had taste testers give us their opinions of the sauces. Our quest was to find the best canned enchilada sauce from the store. We think we found the clear winner!
Below are the results from our taste test ranked from worst to best. If you have a favorite enchilada sauce, vote for it in our poll at the end of this article.
Best Store-Bought Enchilada Sauce from a Can
5. Las Palmas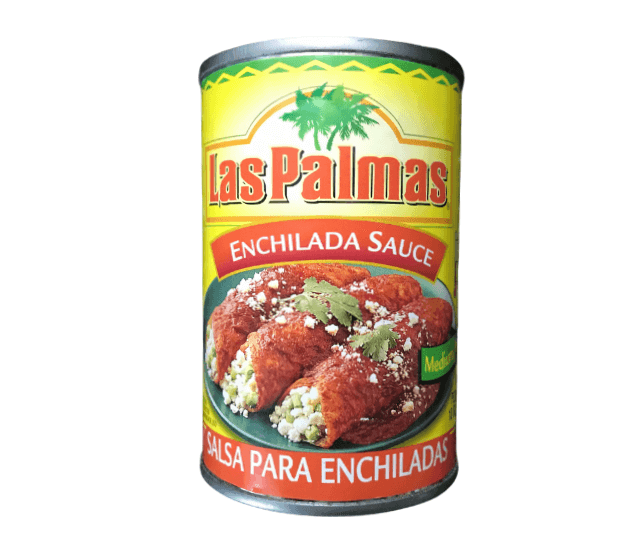 This was by far the least favorite of the five sauces. Our taste tester stated it was too smokey and bitter. The cider vinegar ingredient was said to be too overpowering. The testers also disliked the watery texture of this sauce. It undoubtedly had the thinnest consistency of the five sauces but thickened up a bit when cooked.
Keep in mind that this product lacks tomatoes that are in many other popular store-bought enchilada sauces. It likely would be a much better sauce with the addition of a tomato puree to reduce its bitterness.
Ingredients: water, dried red chile peppers, salt, cottonseed oil, cider vinegar, fumaric acid, spice, olive oil.
---
4. La Preferida
The spice (chile) was stated to be the main element of this sauce. The spice level seemed surprisingly high to some testers for this mild sauce. Most people enjoyed its spiciness, however, they indicated that the sauce needed more flavoring. One person said that it was good but boring and wished the tomato flavor was more prominent.
Ingredients: water, red chile paste, wheat flour, canola oil, salt, tomato paste, spices, caramel color, garlic powder, red color #40, citric acid.
---
3. Ol El Paso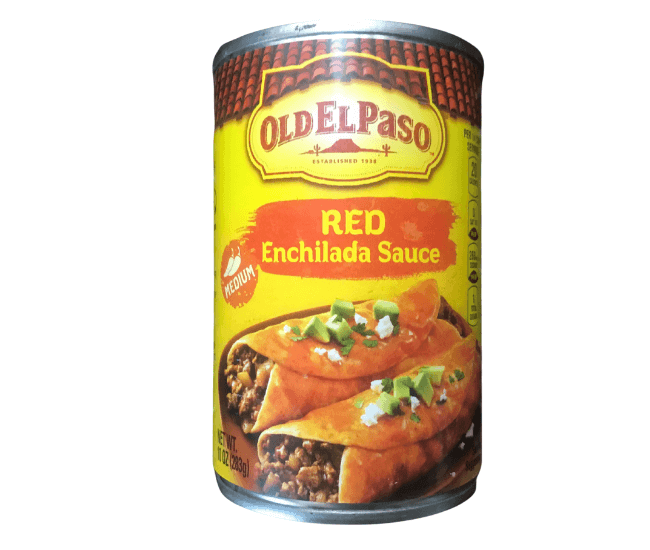 This sauce is certainly heavy on the tomatoes. One person commented that it is more like a tomato sauce with a bit of a kick than an enchilada sauce. The medium sauce was said to provide a nice level of heat. However, it might be on the "too spicy side" for people that don't like a lot of heat. Opt for the mild sauce if you aren't a fan of spicy foods.
Overall, it is tough to complain about this sauce. It's a safe choice that will please a lot of different tastes. However, it's not going to have most people craving chicken enchiladas each week because of this sauce. In our opinion, the company makes a much better taco seasoning compared to its enchilada sauce.
Ingredients: water, tomato puree (water, tomato paste), modified corn starch. contains 2% or less of: sugar, salt, chili pepper, soybean oil, vinegar, hydrolyzed corn protein, citric acid, onion powder, red pepper, color added, natural flavor
---
2. La Victoria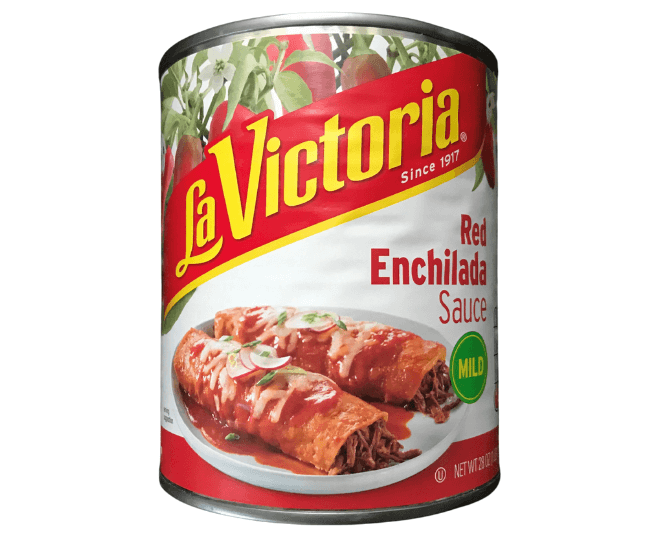 The testers thought this canned enchilada sauce was pleasantly mild and smooth tasting. It was believed to have an excellent balance between the chile peppers, vinegar, and spices. One person commented that the sauce tasted like it was fresh, natural, and authentic. They were surprised it was from a can.
Similar to Las Palmas (see #5 above), this sauce lacks tomatoes. However, unlike Las Palmas, it does not have a bitter flavor. Overall, the testers said that this was an extremely versatile sauce that should be used liberally because you'll want more.
Ingredients: water, red chiles, modified food starch, dehydrated California chile pods, vegetable oil (cotton-seed and/or soybean), salt distilled vinegar, dehydrated pasilla chile, garlic, spices.
---
1. Rosarita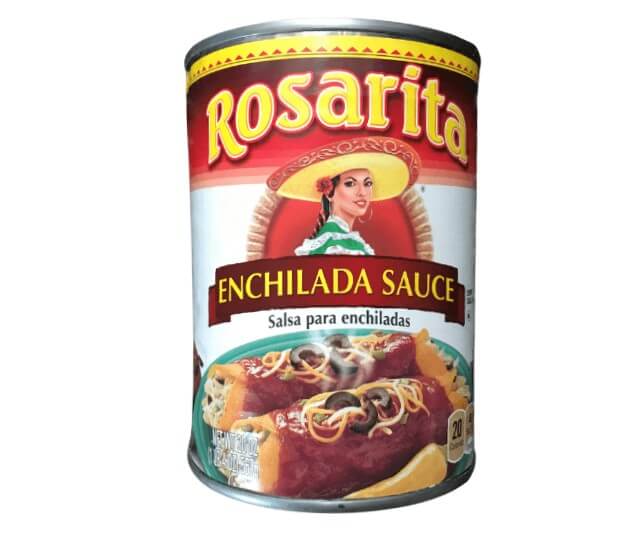 Rosarita was the clear winner of our taste test for the best canned enchilada sauce. The testers loved the dominant tomatoey flavor with its subtle chile background flavor. It was agreed that the sauce tasted closest to authentic out of any sauce featured here.
This was the thickest sauce here which the testers commented was preferable to the thinner sauces that would run off the top of the enchiladas. Everyone agreed that the spice mix was spot on with flavors such as garlic, onion, and paprika noticeably but pleasantly coming through with each bit. The main ingredients of tomato puree and red chili were said to be balanced just right that created a superior enchilada sauce.
Ingredients: tomato puree (water, tomato paste), water, red chile puree, less than 2% of: salt, chile pepper, canola oil, dehydrated onion, spices, garlic puree, colored with oleoresin paprika, natural flavor, concentrated lemon juice, citric acid, guar gum, xanthan gum, dehydrated garlic, autolyzed yeast extract, carob bean gum.
Closing Thoughts
While Las Palmas was the loser in our taste test, there are many people who enjoy its taste if you look around the internet at reviews. In other words, we encourage you to do your own taste test because everyone has their own idea of what is good. Store-bought enchilada sauce is generally a pretty budget-friendly food item, so hopefully, your frustration will be minimal if you happen to get one or two you dislike.
Poll – Favorite Taco Seasoning
Our opinion is not the only one that matters. We want to learn what you think is the best store-bought canned enchilada sauce. Select between the options found below.