Philadelphia is the king of cream cheese with approximately 60 percent of the market share. Great Value is known for its low prices on products that are considered by some to be the same quality as the brand names.
This article will look at whether Great Value really stacks up against Philadelphia cream cheese. We'll cover some of the major similarities and differences between the brands to help you decide which one is best for you.
Great Value vs Philadelphia Cream Cheese
Taste
Philadelphia is the better tasting cream cheese. It tastes much creamier than Great Value. The creaminess in it sticks around in the mouth until swallowed, unlike Great Value which weirdly lacks a creamy flavor until you are about to swallow. Philadelphia is pleasantly smooth and almost buttery compared to the denser and harder to spread Great Value.
Overall, we would select Philadelphia over Great Value without question based on taste. That being said, Great Value is not terrible and likely would be okay to be used in recipes where it is not the primary ingredient (i.e. in cookies, dips, or cakes).
Appearance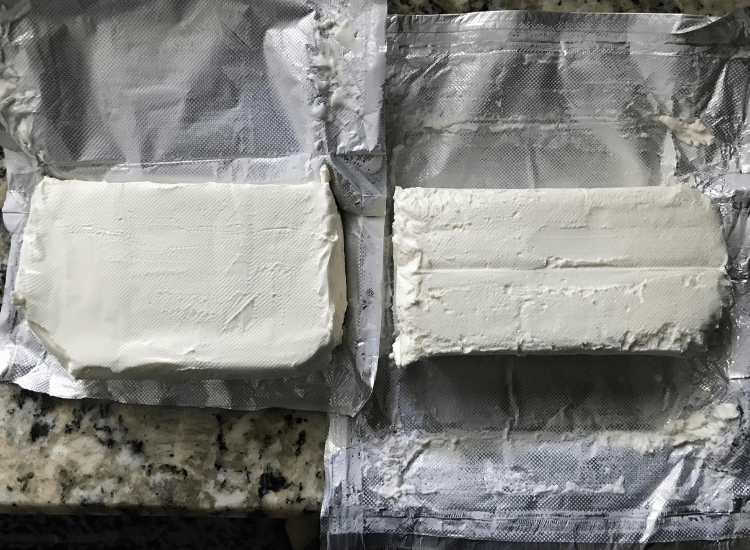 Great Value cream cheese (pictured left) is very similar in appearance compared to Philadelphia (pictured right), except for their shapes. It may seem like you get more cream cheese with Great Value, however, both are 8 ounces per package.
Ownership
Great Value is a brand of Walmart. The brand was launched in 1993 to offer affordable food products without sacrificing quality. Based on 2020 comments from Walmart's CEO, the Great Value brand brings in $27 billion per year for the retail giant.
Philadelphia is owned by Kraft Heinz. It was first produced in New York in 1872 by William Lawrence. The name "Philadelphia" comes from the town of Philadelphia, New York which was known for its high-quality dairy farming. Kraft took ownership of Philadelphia in 1928 when they merged with the Phenix Cheese Company who owned the Philadelphia trademark.
Cost
We paid $0.80 for an 8-ounce block of Great Value Cream Cheese. The Philadelphia 8-ounce block was $1.96. You will undoubtedly pay a premium for the name brand Philadelphia no matter where you purchase it.
Nutrition
There aren't any major differences between Great Value vs Philadelphia cream cheese in regard to their nutrition facts. Great Value does have slightly fewer calories, total fat, and sodium. We suspect most people would not opt for Great Value over Philadelphia simply for better nutrition.
| | Great Value | Philadelphia |
| --- | --- | --- |
| Serving Size | 1 oz (28g/about 2 Tbsp.) | 1 oz (28g/about 2 Tbsp.) |
| Calories | 90 | 100 |
| Total Fat | 9g | 10g |
| Saturated Fat | 6g | 6g |
| Trans Fat | 0g | 0g |
| Cholesterol | 30mg | 30mg |
| Sodium | 95mg | 110mg |
| Total Carbohydrate | 2g | <1g |
| Dietary Fiber | 0g | 0g |
| Total Sugars | 1g | <1g |
| Protein | 2g | 2g |
Ingredients
The ingredients are not wildly different between the two cream cheese brands. Great Value contains guar gum and xanthan gum which are not in Philadelphia.
Great Value – Pasteurized Milk and Cream, Cheese Culture, Salt, Guar Gum, Carob Bean Gum, Xanthan Gum.
Philadelphia – Pasteurized Milk And Cream, Salt, Carob Bean Gum, Cheese Culture
Final Thoughts
When comparing Great Value vs Philadelphia, Philadelphia is clearly the superior cream cheese. It is certainly the cream cheese you will want to use when topping a bagel or your favorite cracker. However, Great Value cream cheese is a decent budget-friendly option, but it's just not on the same level as Philadelphia.