Fruit snacks are certainly a favorite American snack, particularly for kids who enjoy them in school lunches and as a treat at home. When it comes to brands, Mott's and Welch's are two of the favorites for many families.
Below, we will dive into the similarities and differences between Mott's vs Welch's Fruit Snacks to help you decide what one might be the best option for you. If you already have a favorite between these two fruit snacks, please vote for it in our poll at the end of this article.
Mott's vs Welch's Fruit Snacks
Taste Test
Welch's was the winner in our taste test. These fruit snacks were sweeter than the Mott's and their fruit flavors were more pronounced. This makes sense given Welch's uses fruit purees as its primary ingredients vs the first ingredient of Mott's being corn syrup. Welch's tasted more like candy to us and this was the reason why the child who was involved in the taste test loved these fruit snacks.
Mott's was undoubtedly the chewier of the two. By chewier, we mean to stick to your teeth chewy. Welch's did not linger around in the teeth, which was preferable to us.
While Welch's would be our go-to fruit snack of the two, the Mott's were still tasty. We would not be disappointed if we were offered either of these products as a snack.
Appearance
Mott's Fruit Snacks (pictured left below) are a bit larger than the Welch's Fruit Snacks (pictured right). The quantity represented below is what we received in each pouch. You do get more fruit snacks per pouch with Welch's based on weight. A Mott's pouch is 0.8 oz vs 0.9 oz for Welch's.
Mott's have a shinier appearance to them compared to the duller Welch's. The Mott's also have a better shape to them. You can tell the actual shape of the fruits/veggies whereas the shapes of the Welch's fruits are not so clear. Furthermore, the Mott's are harder compared to the squishier Welch's. Overall, the Mott's appear healthier, however, be sure to read the ingredients section below for additional details on what is actually in these fruit snacks.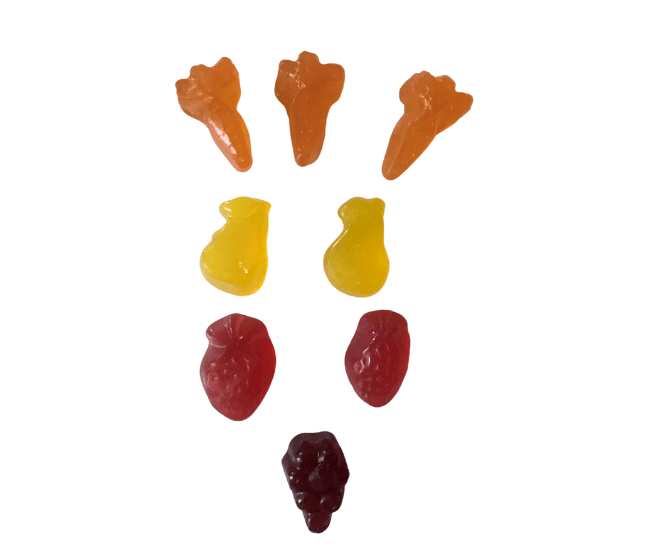 Mott's
Welch's
Ownership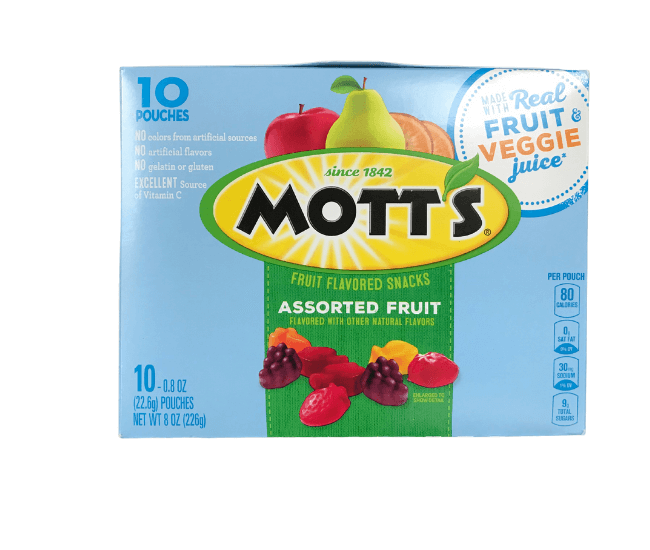 Mott's – Mott's, the famous applesauce brand, launched fruit snacks as a new product in 2010. Mott's is a brand of Keurig Dr Pepper. However, General Mills is a partner who manufactures the fruit snacks for the company.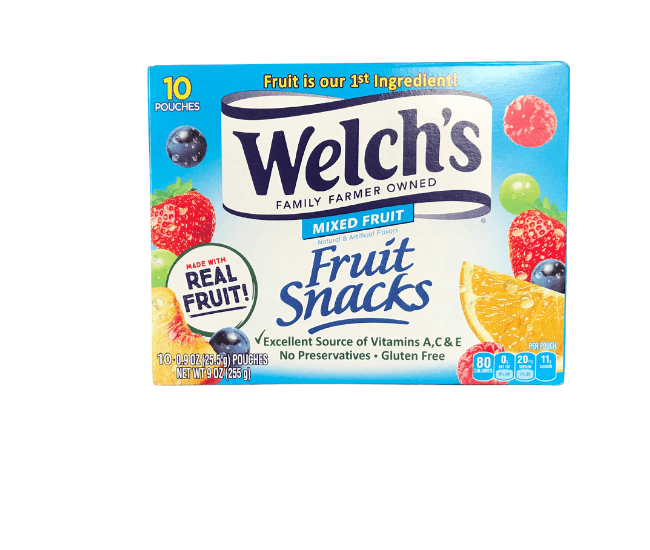 Welch's – Welch's makes fruit spreads, juices such as grape and cranberry juice, and snacks as its primary products. The company is owned by a co-op of grape growers known as the National Grape Cooperative Association. Welch's Fruit Snacks are manufactured and distributed by Promotion in Motion Companies on behalf of Welch's.
Nutrition Facts
There are no major differences in the nutrition facts when comparing Mott's vs Welch's. Welch's does have two more grams of sugar than Mott's. However, they both are made with nine grams of added sugar. Additionally, you do get a bit more Vitamin C with Mott's.
| | | |
| --- | --- | --- |
| | Mott's Assorted Fruit | Welch's Mixed Fruit |
| Serving Size | 1 pouch (23g) | 1 pouch (25.5g) |
| Calories | 80 | 80 |
| Total fat | 0g | 0g |
| Saturated Fat | 0g | 0g |
| Trans Fat | 0g | 0g |
| Sodium | 30mg | 20mg |
| Total Carbohydrate | 19g | 19g |
| Total Sugars | 9g | 11g |
| Includes 9g Added Sugar for each product | | |
| Protein | 0g | 1g |
| Vitamin C | 54mg | 23mg |
Ingredients
One of the biggest differences between these two products is their primary ingredients. Mott's has corn syrup whereas Welch's has fruit puree for their first ingredients. Remember that ingredients are listed in order of the highest to the lowest quantity used. We prefer Welch's with fruit puree used as the predominant ingredient over Mott's who's main ingredient is corn syrup.
Mott's – Corn Syrup, Sugar, Modified Corn Starch, Pear Juice Concentrate, Apple Juice Concentrate, Sweet Potato Juice Concentrate.Contains 2% or Less of: Citric Acid, Vitamin C (Ascorbic Acid), Fruit Pectin, Sodium Citrate, Malic Acid, Color (Vegetable Juice, Fruit Juice, Annatto Extract, and Turmeric Extract), Sunflower Oil, Natural Flavor, Carnauba Wax.
Welch's – Fruit Puree (Grape, Peach, Orange, Strawberry and Raspberry), Corn Syrup, Sugar, Modified Corn Starch, Gelatin, Concord Grape Juice from Concentrate, Citric Acid, Lactic Acid, Natural and Artificial Flavors, Ascorbic Acid (Vitamin C), Alpha Tocopherol Acetate (Vitamin E), Vitamin A Palmitate, Sodium Citrate, Coconut Oil, Carnauba Wax, Annatto (Color), Turmeric (Color), Red 40, and Blue 1
Price
Based on our average of the eight stores below, you will generally pay slightly more for Mott's vs Welch's. More importantly, where you shop for these fruit snacks matters. For example, there is a $2.00 difference between the lowest-priced $1.99 Mott's at Target vs the highest-priced $3.99 Mott's at Vons/Safeway.
| | | |
| --- | --- | --- |
| | Mott's Assorted Fruit – 10 Pouches | Welch's Mixed Fruit – 10 Pouches |
| Kroger | $2.50 | $2.49 |
| Walmart | $2.12 | $2.38 |
| Target | $1.99 | $2.39 |
| HEB | $2.18 | $2.31 |
| Albertsons | $3.29 | $3.29 |
| Vons | $3.99 | $3.49 |
| Safeway | $3.99 | $3.00 |
| Meijer | $2.29 | $2.49 |
| Average | $2.79 | $2.73 |
Poll: Mott's vs Welch's
Do you have a favorite fruit snack between Mott's or Welch's? Vote in the poll below or click the "Results" button to see what people voted for.