What Are They?
The Hershey Company defines a Heath bar as English toffee covered with milk chocolate. Skor is indicated to be butter toffee covered in milk chocolate. The apparent major difference between the two bars is the English toffee in Heath vs butter toffee in Skor.
However, true English toffee uses brown sugar or molasses, according to thenibble.com. It does not use white sugar or nuts as ingredients. If you look at the ingredients of Heath below, there is no indication that brown sugar or molasses are used and almonds are an ingredient. In short, a Heath bar is an Americanized version of an English-style toffee called buttercrunch. Simply put, the toffee used in Heath and Skor are not that much different as appears evident by an examination of the ingredients below.
Ingredients
It's likely no surprise to many readers that are familiar with Heath and Skor bars that they share a lot of the same ingredients. These ingredients include milk chocolate, sugar, dairy butter, salt, and almonds.
Heath – Milk chocolate (sugar, cocoa butter; chocolate; nonfat milk; milk fat; lactose; salt; soy lecithin; vanillin, artificial flavor); sugar; palm oil; dairy butter (milk); almonds (roasted in cocoa butter and/or sunflower oil); contains 2% or less of: salt; artificial flavor; soy lecithin.
Skor – Milk chocolate (sugar, cocoa butter, chocolate, nonfat milk, milk fat, lactose, salt, lecithin (soy), natural flavor), sugar, dairy butter (milk), almonds, contains 2% or less of: sweetened condensed milk (milk, sugar), salt, sunflower oil.
Blind Taste Test
We had two adults and one child do a blind taste test of Heath vs Skor. One adult couldn't tell the difference between the two. This is not surprising given the similar ingredients listed above. The other adult said the Heath bar had a more buttery flavor in regard to the toffee. He stated the Skor had a more subtle toffee taste. The child said the Heath bar tasted more "carmelish" than the Skor and the Skor tasted more chocolatey than the Heath.
Overall, the two people who found a difference in taste between Heath vs Skor both agreed that the Heath bar was superior in taste. Be sure to vote for your favorite at the end of this article. It will be interesting to see what you and other readers think is the better option of the two.
Structure
It is difficult to tell the difference between these two candy bars simply by appearance. We think it is safe to say that most people would not be able to tell the difference between a Skor vs Heath with just the candy bars sitting on a table without their wraps.
It is difficult to tell by the below photo but the Skor on the left has slightly darker toffee on the inside of the candy bar compared to the Heath on the right.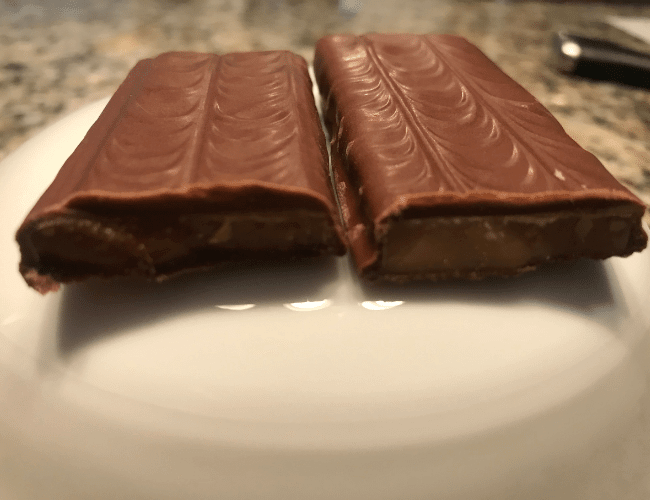 Ownership & History
Both candy bars are made by The Hershey Company.
The Heath bar was first produced in 1914 by L.S. Heath. It was later sold to Leaf before Hershey acquired Leaf Inc. in 1996. Hershey subsequentially obtained Heath after the Leaf acquisition.
Skor is a baby in comparison to Heath. It launched in 1981 by The Hershey Company as a competing product to Heath. Remember that Heath was not acquired by Hershey until 1996. Despite the similarities between the two bars, Hershey still produces both bars.
Nutrition Facts
There are not any major difference between the nutrition facts of Heath vs Skor. We would expect that virtually no one would pick one candy bar over the other simple for better nutrition.
| | | |
| --- | --- | --- |
| | Heath | Skor |
| Serving Size | 1 Bar (39g or 1.4oz) | 1 Bar (39g or 1.4oz) |
| Calories | 210 | 200 |
| Total Fat | 13g | 12g |
| Saturated Fat | 7g | 8g |
| Trans Fat | 0g | 0g |
| Cholesterol | 5mg | 20mg |
| Sodium | 130mg | 110mg |
| Total Carbohydrate | 25g | 24g |
| Dietary Fiber | <1g | 0g |
| Total Sugars | 24g | 23g |
| Protein | 1g | 1g |
| Vitamin D | 0% DV | 0% DV |
| Calcium | 2% DV | 2% DV |
| Iron | 4% DV | 2% DV |
| Potassium | 0% DV | 0% DV |
Poll: Heath vs Skor
Please vote for your favorite between Heath vs Skor! If you love them both or hate them both, we have those options in the poll as well.