Gold Peak and Pure Leaf are two of the most popular premium ready-to-drink iced tea brands. Many people have seen these products sitting side by side in the grocery and wondered if there really is a difference between Gold Peak vs Pure Leaf.
Below, we will discuss some of the key similarities and differences between these products. Some of these include taste, ingredients, nutrition, and more.
Please vote for your favorite (if you have one) between Gold Peak vs Pure Leaf at the end of this article. We are interested to see what readers think is the best!
Note that this article only compares unsweetened Gold Peak and Pure Leaf iced teas. We will compare other varieties at a later date.
Taste Test
Pure Leaf was our favorite of the two in our blind taste test of the unsweetened teas. It had a smooth all-around taste but was a bit on the watery side. Gold Peak had a stronger tea flavor with a slightly bitter finish. We preferred Pure Leaf for its cleaner, less bitter taste. However, if you really like to taste your tea, you may wish to go with the Gold Peak over Pure Leaf. Overall, we'd be happy to drink both on regular basis.
Ownership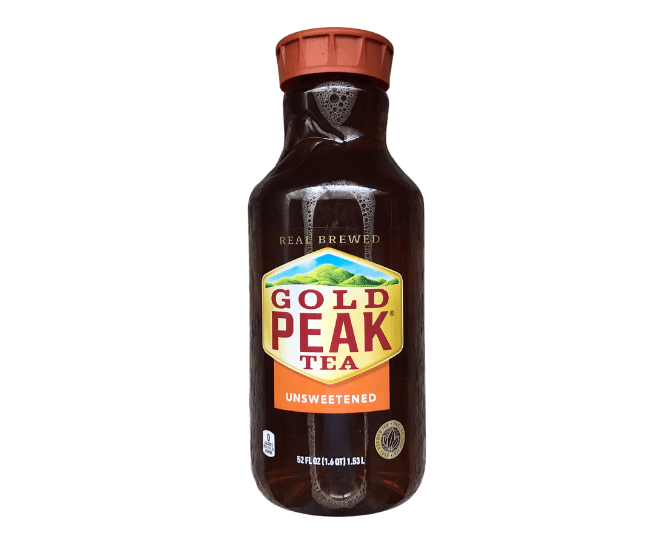 Gold Peak – Gold Peak is manufactured by The Coca-Cola Company. It was launched by the company in 2006 as a premium ready-to-drink iced tea. The initial flavors were sweetened, unsweetened, lemon, diet, and green tea.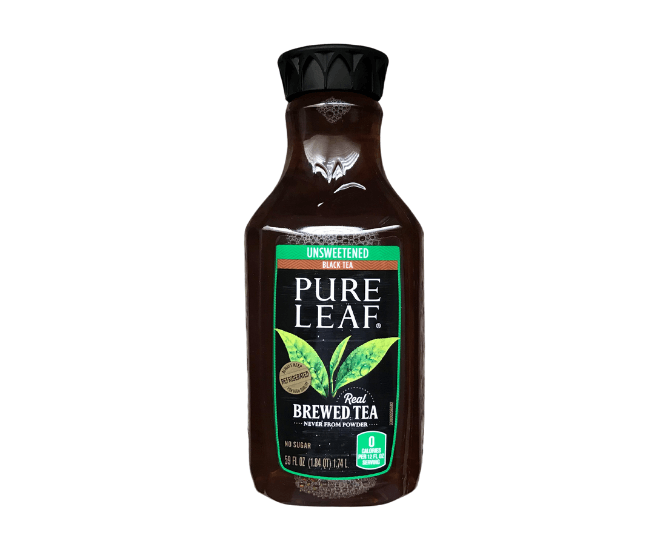 Pure Leaf – This tea is produced from a joint venture between Lipton and Pepsi. According to PepsiCo, it is the #1 premium iced tea brand. The Pepsi Lipton Partnership started in 1991 that utilized Pepsi's bottling expertise with Lipton's experience with teas to roll out products to consumers. The Partnership currently encompasses three brands: Brisk, Lipton Iced Tea, and Pure Leaf.
Ingredients
As should be expected from premium unsweetened teas, the primary ingredient is brewed black tea. Phosphoric acid and the citric acid act as preserving agents. They also can add a bit of flavoring that is tangy or sour.
Gold Peak (Unsweetened) – Brewed tea (filtered water, black tea leaves), phosphoric acid.
Pure Leaf (Unsweetened)– Brewed black tea, citric acid.
Nutrition Facts
There are zero calories, fat, sugar, and so on in these products. However, there is a 23 mg difference in caffeine. You may wish to opt for the Pure Leaf for more caffeine or Gold Peak if you want to minimize your caffeine intake.
| | Gold Peak (Unsweetened) | Pure Leaf (Unsweetened) |
| --- | --- | --- |
| Serving Size | 12 fl oz | 12 fl oz |
| Calories | 0 | 0 |
| Total Fat | 0 | 0 |
| Sodium | 0 | 0 |
| Sugars | 0 | 0 |
| Protein | 0 | 0 |
| Caffeine | 31mg | 54mg |
Price
We paid $2.19 for a Pure Leaf 59 fl. oz. bottle and $2.39 for a Gold Peak 52 fl. oz. bottle. Both were purchased at Meijer. Here are some other prices to give you an idea of what you might pay for these products.
| | | |
| --- | --- | --- |
| | Gold Peak (Unsweetened) 52 fl oz | Pure Leaf (Unsweetened) |
| Kroger | $2.49 | $2.50 (62 fl oz) |
| Walmart | not available | $1.97 |
| Target | $2.49 | $1.99 |
| HEB | $2.25 | $2.03 |
| Albertsons | $2.49 | $3.49 |
| Vons | $2.79 | $2.99 |
| Safeway | $2.99 | $2.99 |
Poll: Gold Peak vs Pure Leaf
Do you have a favorite between Gold Leaf and Pure Leaf unsweetened iced teas? If you do, vote below.