This article will dive into the debate of what is a better pizza between Freschetta vs DiGiorno. There is a clear winner as you will see from the results of our taste test. However, we will let our readers decide who is the true winner. Vote for your favorite in the poll at the end of this article!
Freschetta vs DiGiorno
Blind Taste Test
We had three people do a blind taste test with Freschetta vs DiGiorno frozen pizza. Two were adults and one was a nine-year-old. The adults had never eaten Freschetta and hadn't had DiGiorno in over a decade. The child never had either pizza.
Here is what they thought about the pizzas:
Freschetta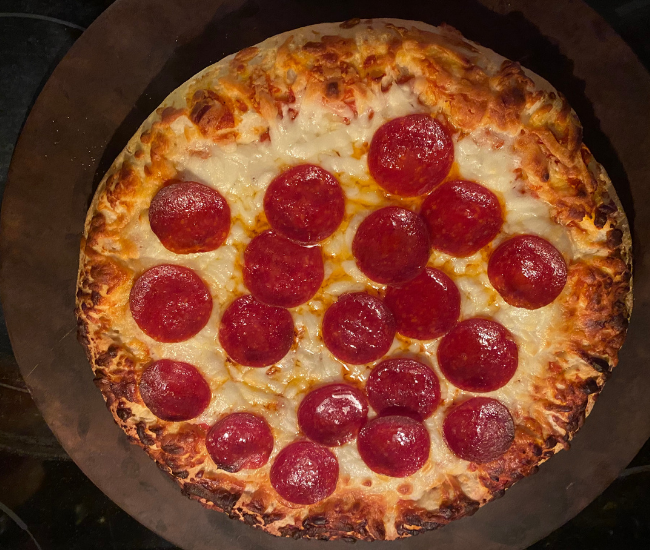 The taste testers agreed that the sauce tasted sweat on this pizza. This was not a good quality. The child, who loves most pizza, refused to finish the slice of Freschetta because of the sauce. However, everyone agreed that the pepperoni was superior in taste compared to DiGiorno. It was said to be much more authentic to what you'd get at a pizzeria. The crust on this pizza was less crispy than DiGiorno's crust, which the taste testers agreed made Freschetta's crust a bit inferior. The testers also agreed that there was a nice proportion of cheese, sauce, and pepperoni on this pizza.
DiGiorno
The big complaint about DiGiorno was the pepperoni. It was said to taste closer to sausage than pepperoni which everyone disliked. One taste tester described the pepperoni as a bit overwhelming. The bottom of the crust was super crispy and browned nicely making it superior to the Freschetta pizza. The sauce was said to be nothing special but certainly not terrible. One person said it seemed like it was designed to please all tastebuds and could use more seasoning. The cheese on this pizza was believed to be comparable to the Freschetta pizza.
Final Verdict – All taste testers agreed that DiGiorno was the better pizza. It had a superior crust, sauce, and overall a more pleasing taste. Yes, the pepperoni was a bit strange, but it wasn't enough to cause the testers to opt for the Freschetta over the DiGiorno.
On a scale of 1 to 5 with 5 being the best-frozen pizza ever, the taste testers all rated the DiGiorno a 3. The Freschetta was rated a 2, 2, and 1 by the three reviewers.
Grease & Thickness
Note that these products produced a lot of pizza grease as you can see from the above photos. The taste testers did not comment on the grease because maybe it was to be expected. However, it is something to be aware of if you plan to buy these pizzas. You may wish to blot off this grease because it can save some calories.
Additionally, the thickness of the pizzas was not commented on by the taste testers. DiGiorno is somewhat thicker compared to Freschetta. Depending on your preference, this might factor into your buying decision.
Ownership
Freschetta – Freschetta is a brand of Schwan's Company. If you know Schwan's, you likely know them from their home delivery service of foods. Other familiar brands associate with Schwan's are Red Baron, Tony's, and Mrs. Smith's. The parent company of Schwan's is the South Korean food company CJ Cheil Jedang. This company's primary businesses include food ingredients, logistics, biotech, processed foods, and animal feed.
DiGiorno – DiGiorno is a subsidiary of Nestle, the multinational food and drink company. The previous owner was Kraft who sold DiGiorno to Nestle in 2010. The latest 2017 data from Statista.com shows that DiGiorno's annual sales were over $1 billion. The brand was launched in 1991 and they only made pasta and sauces in the beginning. It wasn't until 1995 that Digiorno rolled out its first pizza products.
Nutrition Facts
Okay, most people aren't thinking about nutrition before they eat a frozen pizza. However, let's take a look at the nutrition facts between Freschetta vs DiGiorno for the people that would like to know this data. As you can see in the table below, there are no major differences in nutrition. Overall, DiGiorno is slightly better because of its lower calories, fat, cholesterol, sodium, carbs, and sugars. It also has 1 gram higher protein.
| Nutrition | Freschetta – Pepperoni (Naturally Rising Crust) | DiGiorno – Pepperoni (Rising Crust Original) |
| --- | --- | --- |
| Serving Size | 1/6 pizza (129g) | 1/6 pizza (130g) |
| Calories | 330 | 320 |
| Total Fat | 13g | 12g |
| Saturated Fat | 6g | 5g |
| Trans Fat | 0g | 0g |
| Cholesterol | 30mg | 25g |
| Sodium | 770mg | 760mg |
| Total Carbohydrate | 40g | 37g |
| Dietary Fiber | 2g | 1g |
| Total Sugars | 8g | 6g |
| Added Sugar | 1g | 3g |
| Protein | 14g | 15g |
| Vitamin D | 0% | 0% |
| Calcium | 192mg 15% | 200mg 15% |
| Iron | 2.9mg 15% | 2.4mg 15% |
| Potassium | 361mg 8% | 130mg 2% |
Popularity
The below data from Statista.com shows that Digiorno is much more popular in the U.S. compared to Freschetta. Freschetta falls behind not only DiGiorno but other popular frozen pizza brands such as Red Baron, Tombstone, and Tony's. DiGiorno is certainly the primary go-to brand when people buy frozen pizza.
Price
Both pizzas were purchased at Meijer. We paid $5.49 for the Freschetta and $5.00 for the DiGiorno. The DiGiorno was on sale and is normally priced at $5.49.
Below are some prices at other stores to give you an idea of what you might pay for these pizzas. Generally, both brands are competitively priced to each other. We believe that around $5.00 to $6.00 is a fair price to pay for this quality of frozen pizza.
| Store | Freschetta – Pepperoni (Naturally Rising Crust) 27.16 oz | DiGiorno – Pepperoni (Rising Crust Original) 27.5 oz |
| --- | --- | --- |
| Walmart | $4.98 | $5.00 |
| Target | $5.29 | $5.49 |
| Kroger | $5.00 | $5.79 |
| Safeway | $5.50 | $6.49 |
| Albertsons | $6.49 | Not Available |
| Vons | $4.99 | $5.49 |
| Shaws | $7.99 | $6.99 |
| Wegmans | $5.49 | $5.49 |
Final Thoughts
Despite DiGiorno stating in its advertising "It's not delivery. It's DiGiorno.", the pizza is inferior to any delivery pizza we have ever had. This includes the comparably priced Little Caesars, which seems like a major bargain compared to DiGiorno. It's certainly a steal compared to Freschetta.
However, convenience is a major factor for many people. It is much easier to grab a DiGiorno or Freschetta at the grocery store and pop it in the oven for around 20 minutes instead. DiGiorno and Freschetta are attractively priced between $5.00 to $6.00 where a family can be fed with decent pizza for a reasonable price without the hassle of carryout or delivery.
Poll – Freschetta vs DiGiorno
Do you prefer Freschetta or DiGiorno? Please vote below!